Why own a green public building?


The benefits of green public buildings
The benefits of green buildings continue to stack up. Green public buildings delivers a range of business benefits including:
Leadership in the community
Building green is a clear expression of commitment to the environment. Increasingly, people around the world perceive green buildings as modern and ethical – and companies, councils, governments and community organisations associated with green buildings benefit from these perceptions through community pride, satisfaction and well-being.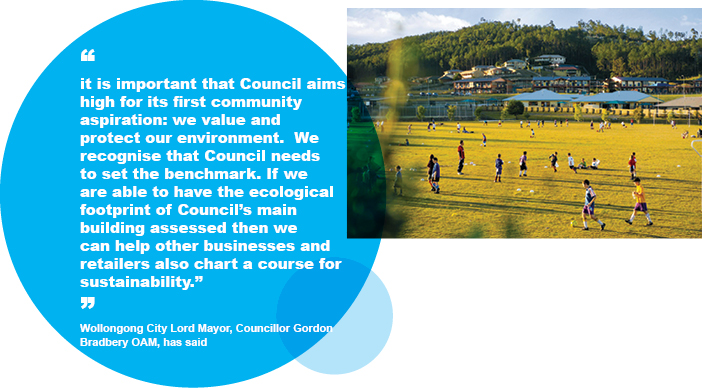 Demonstrate financial responsibility

Green Star buildings provide a bricks-and-mortar demonstration of an organisation's commitment to financial responsibility.

Increasingly, leaders in both the public and private sector have a financial responsibility to deliver assets that are affordable and represent value for money over the long-term. Green Star buildings and communities do just that.



Green Star certification sends a clear message to our community that we are committed to building long-term assets that are sustainable, productive and fiscally responsible.
Lord Mayor of Parramatta, Cr John Chedid

With a $1.6 billion urban renewal project underway, Parramatta City Council was the first local government in Australia to specify Green Star requirements for each building across an entire precinct, and to register to achieve a Green Star – Communities rating.

Learn more about Parramatta City Council's leadership

Reduced delivery time-frames and resources

Key to the Green Star process is an integrated team approach to design, which often leads to fewer design conflicts and changes in the development process.

Developers on Green Star-rated buildings often report that a clear vision helps time and resources to be used more efficiently from day one.
According to the World Green Building Council's Business Case for Green Building (2013), there has been an overall trend towards lower design and construction costs as building codes become stricter, supply chains mature and the industry becomes more skilled at delivering green buildings.
The Green Star process helped all team members to commit to achieving the same sustainable outcomes. It also resulted in team members encouraging each other to push the boundaries and find more effective and efficient ways of delivering key elements of the project.

Project's Green Star Accredited Professional and Director of Ecolateral John Moynihan
In achieving a Green Star rating for the $45m The Corso at North Lakes, Moreton Bay Regional Council realised a number of unexpected benefits.

More awards, grants and partnerships

Increasingly green buildings are examples of innovation and awards winning design that attract award, grants and other partnerships.
The Green Star-rated Melbourne Convention and Exhibition Centre not only set a new global standard for convention centre design - the MCEC's innovation and ingenuity has led to more than $1 billion of economic activity for Victoria, as well as acknowledgement with dozens of awards, including the 2010 Victorian Architecture Medal.

Read a case study of the Melbourne Convention and Exhibition Centre.





Ready to start using Green Star?
Green Star – Design & As Built
Green Star – Communities
Green Star – Interiors
More Green Star rating tools
Contact:
Jorge Chapa
Head of Market Transformation
Green Building Council of Australia
Phone: 02 8239 6218
Email: jorge.chapa@gbca.org.au