Webinar: Building Infiltration Testing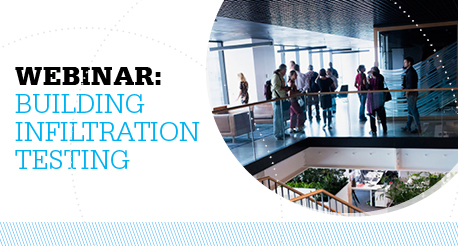 The practice of testing a whole building's air tightness (or air permeability) is common in Europe and North America as it is recognised that well-sealed buildings perform measurably better for both energy efficiency and control of the indoor environment. The average air tightness of Australian buildings is comparably poor and this sometimes contributes to a failure to reach energy efficiency goals. Green Star offers up to two Innovation Challenge points for a building test, but few projects have yet to take advantage of this opportunity.
This webinar will see Sean Maxwell from the Air Infiltration and Ventilation Association of Australia discuss building infiltration testing in Australia, the benefits of conducting testing, and where it fits into Green Star. Sean Maxwell has conducted more than a thousand blower door tests over 10 years as a green building professional in the United States. He has written research for the U.S. Department of Energy's Building America program and has contributed to the development of energy codes in New York State.
We will also hear from Chris Nunn from AMP who will discuss building infiltration testing in Australia and Robert Milagre from the GBCA who will discuss Building Infiltration and Green Star.
Target audience: ESD consultants, building owners, developers, and Green Star professionals
Learning objectives:
Understand building infiltration in Australia
Review fundamentals of building science, including pressures, stack effect, building air tightness, and viewing the "building as a system"
Understand basic and advanced blower door techniques and how they can be applied to Green Star projects
Understand what is involved in creating an airtight building, from concept to completion
Event Details
Tickets
Future Green Leader

/

$24.82 + GST




Future Green Leader Only

Member

/

$35.45 + GST




Members Only

Non Member

/

$53.64 + GST




Non-Members Only
CPD Points
1 Green Star CPD point(s).
When
Tue 8 Mar 2016 12:00pm - 1:00pm
Location
online, NAT
What's On
For more events and courses coming up at the GBCA, please visit our What's On page.
View More