Site Tour - Olympic Park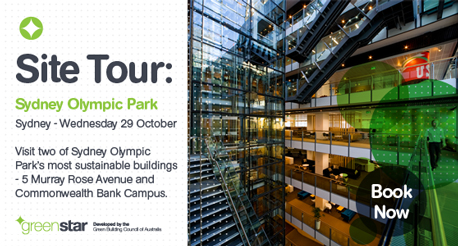 Once known for its industrial past, Sydney Olympic Park is now a dynamic and diverse place to live, work and play. As a corporate location this precinct is also a sustainability hot spot, thanks to a number of exceptional Green Star developments including 5 Murray Rose Avenue and the Commonwealth Bank Campus.
5 Murray Rose Avenue
6 Star Green Star—Office Design and As Built
Named after Australia's legendary swimmer, this building forms the first stage GPT's $200 million Murray Rose Business Park – the fist speculative business park of this scale outside Sydney CBD.
Developed to world leading sustainability practice, 5 Murray Rose incorporates:
A solar installation that will contribute 25% of the base-building's peak load, one of the largest solar installations in an Australian commercial building
High performance glazing used in conjunction with fixed and automated shading, optimised for each facade orientation to maximise the passive efficiency of the design
During the winter morning warm-up cycle the building is able to circulate return air to preheat the building prior to occupancy. This reduces energy consumption associated with warming outside air to the building during unoccupied periods
High levels of accessibility and end-of-trip facilities to support active transport choices.
Commonwealth Bank Campus - 2 and 4 Dawn Fraser Avenue
5 Star Green Star—Office Design, As Built and Interiors
Owned by DEXUS Property Group, this campus style development is a key part of Commonwealth Bank's strategy to reduce their footprint from thirteen buildings to just three.
Consisting of two A-grade office buildings, connected by sky bridges and internal streets, this development has the feeling of a small town rather than just a building. Achieving a Green Star trifecta, sustainability initiatives include:
Located within the SOP Water Reclamation and Management Scheme area – both buildings use recycled water for toilet flushing
Reduced energy use through electrical sub-metering, T5 light fittings, switched zones, and light sensors in meeting rooms
Tenants can access and monitor real-time data on power and water via a sophisticated web portal
Enclosed terrace spaces with operable façade louvers allow the occupants to open the façade to create naturally ventilated spaces, reducing the reliance on air-conditioning for cooling purposes
A highly-efficient façade employing high-performance glazing and external sun shading
Use of low VOC materials throughout the fitout.
Event Details
Tickets
Future Green Leader

/

$69.30




FGL Only

Member

/

$99.00




Members Only

Non-Member

/

$150.00




Non-Members Only
CPD Points
2 Green Star CPD point(s).
When
Wed 29 Oct, 2014
Registration at 5 Murray Rose Ave - 8:50am
Tour ends at CBA Campus at 11:15am
Add to Calendar
2014-10-29
true
Site Tour - Olympic Park
Join us for a site tour and visit two of Sydney Olympic Park's most sustainable buildings - 5 Murray Rose Avenue and Commonwealth Bank Campus.
5 Murray Rose Avenue SYDNEY OLYMPIC PARK NSW 2127
Location
5 Murray Rose Avenue
SYDNEY OLYMPIC PARK NSW 2127
Getting There
Train: Western line
Link
Parking:
Link