Credit-by-Credit Assessment
Based on your feedback and as part of our ongoing efforts to revolutionise Green Star, the GBCA has introduced a new Credit-by-Credit Assessment option to the Green Star certification process. A Credit-by-Credit Assessment is an optional, fee for service, step that project teams can take in order to achieve more certainty about the likely results of their assessment at any point in the assessment process*.
*Time limits may apply.
The Credit-by-Credit Assessment option is designed to make the certification process more efficient and cost-effective by helping project teams to achieve better certification results. This service will reduce the necessity of project teams to pursue expensive "buffer credits" by giving them a better indication of the likely outcome of a credit claim, prior to the regular rounds of assessment.
Undertaking this optional assessment allows project teams to submit documentation for one or more credits that they intend to claim as part of their Green Star Assessment. Any credit can be submitted however if submitting an Innovation credit for assessment, please consult your Case Manager as Credit-by-Credit assessment is not appropriate in some situations for the Innovation Category. Individual credits can be submitted at any time throughout the certification process. The outcome of a Credit-by-Credit Assessment will be either:
Point(s) to be confirmed indicating that further documentation is required for the credit to be assessed and points awarded; OR
Point(s) awarded conditionally indicating that the documentation provided is sufficient for compliance with the credit (in accordance with the Credit Requirements outlined in the relevant Technical Manual) and that no further information will be required for the project submission*.
Point(s) awarded indicating that post Round 2 a point has been awarded and the final assessment results have been updated accordingly.
*It is important to note that whilst points are conditionally awarded, the eventual allocation of credit points will be subject to a consistency review, undertaken by the Assessment Panel during the standard rounds of Assessment (Round 1 and/or Round 2).
Credit-by-Credit Assessments are subject to administration fees which are in addition to the certification fee. The cost of a Credit-by-Credit Assessment ranges from $1,000 to $2,000 per credit depending on the complexity of the credit to be reviewed.
For more information or to discuss how a Credit-by-Credit Assessment may help you achieve a better certification outcome for your project, or an indicative quote please contact your Case Manager.

Example process: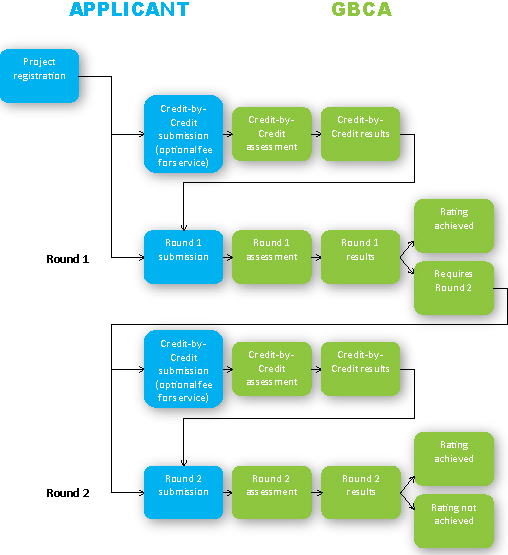 Submission Checklist for Credit By Credit Assessment:
- CBCA Submission Checklist (for all Rating Tools excluding Communities) - COMING SOON!
- CBCA Submission Checklist (for Communities only)
A copy of the Submission Checklist must be included within the CBCA submission. Please contact your Case Manager if you have any questions.