Sydney Water Corporate Headquarters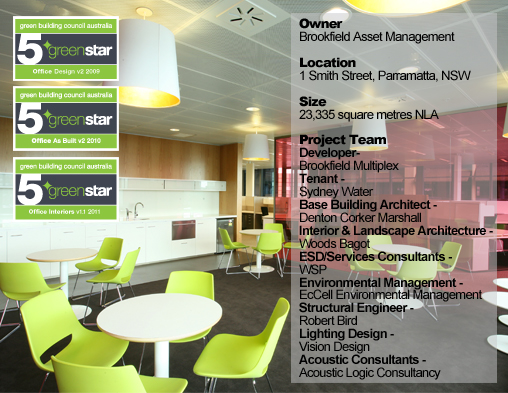 Sydney Water is in the business of sustainable water management. With responsibility for the provision of water to Sydney and surrounding areas, Sydney Water has three core objectives: to safeguard public health, protect the environment and thrive in a competitive business environment. Green Star is helping Sydney Water to achieve these objectives at its 5 Star Green Star-certified headquarters in Parramatta.

Australia has the world's fourth highest per capita consumption of water, despite our water scarcity, says the Organisation for Economic Cooperation and Development (OECD). With this in mind, the project team made an early commitment to achieve the highest possible levels of water-efficiency in the new building.

In line with Sydney Water's 'Water 4 Life' sustainability objectives, which include a target of 12 per cent recycled water usage for the Greater Sydney area by 2015, Sydney Water committed to setting a best practice example of recycled water use and the minimisation of potable water reliance.

"Given the nature of Sydney Water's business, water consumption was a key area to be targeted through the Green Star process. Our imperative was to score maximum points within the 'Water' category, which we ultimately achieved in our As Built submission," explains Sydney Water Facilities Management & Maintenance Manager, Craig Heitmann. "Our Green Star office is helping us to 'walk the talk' on water-efficiency, and lead by sustainable example."

As a publicly funded, government-owned corporation, Sydney Water is committed to fiscal responsibility for all infrastructure investment, operations and service delivery. In line with this commitment, sustainable initiatives and the achievement of 5 Star Green Star certifications for the new office project were achieved at a minimal cost premium. "The green initiatives we introduced to achieve our Green Star ratings had a relatively minor impact on capital costs for the building – in the order of three per cent," Heitmann says.

The achievement of the ratings will provide significant ongoing benefits to Sydney Water and to the wider community, both through operational cost savings and the education Sydney Water staff have gained throughout the process, Heitmann adds.

"Implementing the Green Star initiatives focused Sydney Water staff not only on the benefits that sustainability initiatives could deliver for our building, but also how their daily activities impact the environment – at work and in general.
What Sydney Water Corporate Headquarters achieved

Water
As a champion of the water-wise movement, Sydney Water's Parramatta Headquarters are designed to be a leader in water-efficiency, in line with the organisation's core aim to protect the environment. Sydney Water has achieved a 5 Star NABERS Water rating for the tenancy and reports that, through careful consideration of water-efficiency across all uses, the building consumes up to 60 per cent less potable water than a comparable standard-practice building.

Contributing to these savings is the onsite blackwater treatment system, which recycles the building's waste water, as well as rainwater from the onsite collection and storage system, and return water from the building's cooling towers. The system can produce up to 41,000 litres of recycled water per day to supply a range of non-potable uses including toilet-flushing and landscape irrigation. That equates to nearly six Olympic-sized swimming pools full of water each year.
Water consumption is further reduced by the water-efficient fixtures that have been implemented throughout the building, including 6 Star WELS-rated urinals and 4 Star WELS-rated toilets and taps.
Transport
The central location of Sydney Water's Headquarters in the heart of the Parramatta CBD provides easy access for staff to the many public transport options available locally. The parking provided for the building is 50 per cent below the maximum allowance, and the Parramatta train station is less than a block away, meaning the project gained full points under the Green Star 'Provision of Car Parking' and 'Commuting Mass Transport' credits.

"The site was primarily chosen for its close proximity to the local bus stops and train station," explains Jamie Loader, National Operations and Sustainability Manager from Brookfield, the owner of Sydney Water HQ. "Great 'end-of-trip' facilities such as bike storage, lockers and showers are also increasing the number of Sydney Water workers who commute to work by bike, helping to reduce traffic congestion and carbon emissions within the local community. These initiatives contributed to the achievement of such high scores in the Green Star 'Transport' category," he says.
Management
The Sydney Water project also scored highly in the 'Management' category, achieving all available points for management across the Design and As Built submissions. "We were able to achieve full points through an integrated and comprehensive approach to management, including the engagement of Green Star Accredited Professionals through the delivery process, focused commissioning, the training of facilities and operations teams, and the high level of recycling and reuse of materials achieved during the construction phase," says Loader.

Loader and Heitmann both attest to the benefits of a comprehensive commissioning process and the collaboration between the design and construction team at Brookfield Multiplex and the building management team at Sydney Water. "Armed with this shared knowledge, our building management team can ensure that any changes made to management strategies or schedules are aligned with the original design intent," explains Heitmann.

The great results achieved at Sydney Water prompt Loader to offer the following advice to other organisations undertaking Green Star projects: "Prioritise the training of your staff and contractors in environmentally sustainable design. This will ensure that your target initiatives are implemented effectively and as designed."
IEQ
Providing a comfortable and healthy office environment for Sydney Water employees was also supported by Green Star initiatives. "The brief was to provide A-grade office space for up to 1,500 Sydney Water staff, while being flexible in the approach to workplace design and providing excellent staff amenities," says Loader.
Superior thermal comfort has been achieved through the implementation of chilled beam technology, and ventilation rates are 100 per cent above Australian Standard requirements. More than half of the office's workstations have direct line of sight to the exterior of the building, and flat panel LCD computer monitors with anti-glare screens have been specified to improve the experience of Sydney Water workers.

These changes have paid dividends, with a post-occupancy study conducted for the building recording a 44 per cent increase in general occupant satisfaction when compared to Sydney Water's old head office. The same post-occupancy study predicted increases to employee productivity of up to three per cent, based on the responses that employees gave across a number of IEQ satisfaction categories.