Monash University Briggs Hall & Jackomos Hall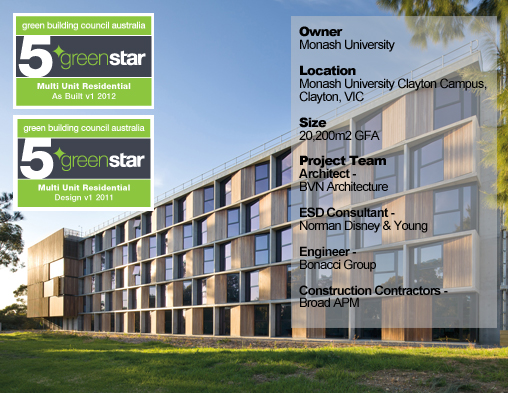 THE PROJECT AT A GLANCE
5 Star Green Star – Multi Unit Residential Design v1 and 5 Star Green Star – Multi Unit Residential As Built v1 ratings representing 'Australian Excellence' in environmentally sustainable residential design and construction.
The first project to achieve 5 Star Green Star – Multi Unit Residential As Built v1 certification in Australia
The first university in Australia to deliver sustainable low-cost housing to students under Round 2 of the National Rental and Affordability Scheme (NRAS)
The largest residential photovoltaic installation in Australia, capable of supplying 35% of annual electricity demand.

Victoria's Monash University has emerged as a leading sustainable education provider in 2012. In addition to championing the environmental cause through student education and research, Monash has embarked upon a diverse program of works that puts green research into practice and is delivering sustainable places for students to live and learn.
An ongoing commitment to achieving Green Star Design and As Built certifications for all new campus infrastructure developments has provided a framework for Monash to deliver a range of benefits. Green Star is not only helping the university to provide greener learning spaces through projects such as the 5 Star Green Star – Education Design v1 certified Monash Peninsula Activity & Recreation Centre, it has also provided a blueprint for the delivery of environmentally and economically sustainable on-campus accommodation for students.
According to Brett Walters, Monash University's Environmental Sustainability Manager, the university's "broad and deep commitment to sustainability" began with the 2005 Monash University Guide to Sustainable Development, known as the 'EcoAccord'.
"The EcoAccord informed project teams on best practice but in itself did not guarantee an holistic sustainable outcome. We chose to pursue Green Star As Built ratings in 2009 as a mechanism to drive the delivery of sustainable new buildings, with an aspiration set that developments undergoing certification would deliver a 5 Star Green Star As Built outcome."

"As an independently assessed, national, industry-accepted process, Green Star As Built certification has allowed Monash University to be confident that its sustainability aspirations can be delivered and verified. All construction industry participants understand Green Star and this aids the delivery of sustainable outcomes. Monash remains confident that the continued use of the Green Star suite of tools will improve the performance and reduce the environmental impacts of its buildings," says Walters.
In addition to ensuring better environmental outcomes, the university's commitment to Green Star certification for their construction program is also paying reputational dividends. The university's new student accommodation project has been recognised with several awards, including the Victorian Architecture Award for Multiple Housing 2012, and a Royal Institute of British Architects 2012 International Award. The university expects that the provision of affordable and sustainable housing will also help to attract top students. "There is no doubt that both building performance and the university's reputation will continue to be enhanced by our commitment to Green Star," says Walters.

GREEN LIVING FOR GREEN LEARNING


The 5 Star Green Star – Multi Unit Residential Design and As Built v1 certified Briggs Hall and Jackomos Hall is certainly a development of firsts. The project is the first residential development in Australia to achieve a 5 Star Green Star - Multi Unit Residential As Built v1 rating. And, through the project, Monash has become the first university in Australia to deliver low-cost student housing under Round 2 of the National Rental Affordability Scheme (NRAS).
"Offering fully self-contained environmentally sustainable accommodation for up to 600 students across two five-storey apartment buildings, Briggs Hall and Jackomos Hall showcase the application of modern sustainable design principles on a significant scale, and in a relatively low-cost design and build project, delivered ahead of schedule and budget. We are proud to set a new standard for sustainable student housing in Australia," concludes Walters.

WHAT THE BRIGGS HALL AND JACKOMOS HALL PROJECT ACHIEVED
IEQ
Despite budgetary constraints, achieving the best possible indoor environment quality (IEQ) was a top priority for the project team. The two halls achieved all available Green Star points for dwelling ventilation, without the need to install any mechanical air-conditioning systems, and the buildings' high-performance external façades were custom-designed to maximise external air provision and manage heat load.
"Incorporating innovative solutions, such as trickle ventilators to increase the provision of outside air to the dwellings, was an important factor in achieving a synergy between a Green Star rating and affordable housing," explains the project's ESD Consultant, Emmanuelle Delomenede from Norman, Disney & Young.
Double-glazing, window shading, high-performance insulation and ceiling fans were all installed to maximise thermal comfort for the student residents. These features reduce greenhouse gas emissions and minimise heat gain in the warmer months, while energy-efficient gas-fired central boilers have been installed to provide heating to the apartments via hydronic radiator panels in the winter.
"Heating and cooling typically accounts for 40 per cent of the overall energy consumption within residential buildings. The integrated package of measures at Briggs Hall and Jackomos Hall delivers high levels of occupancy control and comfort while at the same time delivering high-efficiency heating and cooling with very low levels of CO2 emissions," says Delomenede.
Student resident, Jesse Cardy, loves the space and access to natural light that his new apartment provides. "The best thing about the room is just how open it is - the window is full-length and bright - and you get that nice sun coming in in the morning," he says.
WATER
The solar pre-heat systems installed on the roofs of the two apartment buildings are capable of reducing the annual demand for hot water by five per cent, while 5 Star WELS-rated taps and 3 Star WELS-rated showers have been installed to reduce potable water consumption. Furthermore, 100 per cent of the buildings' non-potable water demand, including laundries, toilet flushing and landscape irrigation, is met through a combination of rainwater harvesting, fire test water reuse and greywater recycling, significantly reducing the development's impact.
The project was also awarded a Green Star 'Innovation' point for the exceeding the benchmarks of the Emi-5 'Watercourse Pollution' credit. Delomenede explains that prior to the Halls' construction, external stormwater from surrounding areas received little treatment before being discharged to the small lake located at the rear of the development. A holistic approach to water management has facilitated a significant reduction to peak stormwater flows and improvements to the quality of water discharged to the waterways surrounding the site.

ENERGY
The Briggs Hall and Jackomos Hall project team combined energy-reduction strategies and efficient appliances with sustainable onsite energy-generation to deliver better energy consumption outcomes across the development. The rooftops of the Halls are home to a 153KW monocrystalline photovoltaic (PV) array - the largest residential solar installation in Australia – which is capable of supplying up to 35 per cent of the buildings' annual electricity demand.
Delomenede says that all appliances were selected with the highest energy star ratings in mind and the buildings' design includes smart controls such as shutdown switches to each apartment and lighting sensors in the common areas to minimise energy use when these spaces are unoccupied.
"Overall, the Halls consume around 45 per cent less energy than a standard multi unit residential building. The energy generation through the renewable systems and overall reduction in energy consumption not only reduces the buildings' overall carbon footprint but is passed on to the students as a direct benefit in the form of reduced operating costs."