1 Bligh Street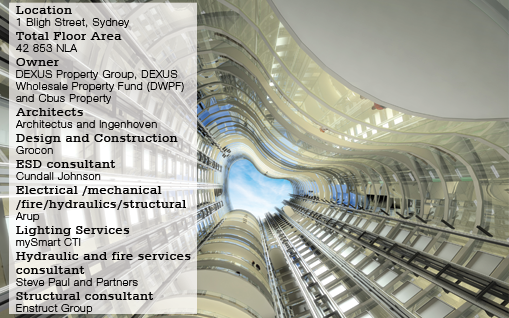 1 Bligh Street is the next generation in high performing sustainable office space, with a 6 Star Green Star - Office Design v2 rating and a number of innovative sustainability strategies that are 'firsts' in the market place.
1 Bligh Street has a 5 star NABERS Energy commitment which is the highest achievable energy rating possible in Australia, and is also aiming to achieve a 6 Star Green Star Office as Built rating in 2011.
DEXUS Property Group Chief Executive Officer, Victor Hoog Antink, said: "Every aspect of 1 Bligh Street - from its double skin façade (an Australian high rise first) to the unique, full building height, naturally ventilated atrium - is designed to optimise sustainability and tenant amenity throughout the 28 level development."
A new face in town
The development's double skin façade system is a major contributor to the 6 Star Green Star rating. This naturally-ventilated glass façade was designed to optimise occupant amenity. Views are maintained, with 70 per cent of the Net Lettable Area (NLA) within eight metres of either the façade or the atrium, while providing optimum daylight entry and solar control. The components of the façade system include a double-glazed inner skin of high-performance glass and an outer skin of clear glass separated by an accessible cavity which is naturally
ventilated and contains an automated blind.
The unique façade allows 45 per cent of the office NLA to achieve high daylight levels, reducing the need for artificial lighting. This, combined with reduced heat loads, helps keep energy consumption to a minimum, and enables energy performance to achieve the 5 Star NABERS Energy requirements, with a 42 per cent carbon dioxide reduction when compared to a similar-sized conventional office tower.
Super cool
The design of 1 Bligh Street incorporates an innovative hybrid tri-generation arrangement that uses gas and solar energy to generate cooling, heating and electricity. An array of 500m2 of roof-mounted solar panels provides free cooling for the building, and in combination with the large trigeneration unit, reduces the load on grid power by more than 27 per cent.
Minimising materials
Green Star rewards building projects that both minimise materials wastage and select environmentally-preferable materials. In 1 Bligh Street, the specially-formulated high-strength concrete used, as well as the design which reduces the number of columns required, has in turn reduced the amount of concrete needed.
In addition, 20 per cent of all aggregate used in the concrete is recycled, and around 41 per cent of all cement required for the structure was replaced with industrial waste by-products. ninety per cent of the steel used has a recycled content greater than 50 per cent, and the project team worked to ensure than all timber used is either FSC Certified or re-used from a previous application
Grocon Chief Executive Officer, Daniel Grollo, who was an original board member of the Green Building Council of Australia, has said that "the use of unique high-strength concrete with a lower cement content means there is 5,768 tonnes less of carbon dioxide being released into the atmosphere and, to date, we have recycled 37,000 tonnes or 94 per cent of all construction waste produced on the project."
Water-wise
1 Bligh Street is the first building to use blackwater recycling in a high-rise office building in Sydney. Waste water is treated via a central blackwater treatment plant and recycled for toilet flushing and make-up water to the cooling towers. This will save approximately 100,000 litres of water a day which, when annualised, is equivalent to an Olympic swimming pool every two weeks.
In addition, a 65,000 litre rainwater harvest tank recycles rainwater for irrigation. Water-efficient appliances are used throughout, using 3 star WELS-rated showerheads, 5 star-rated hand wash basin taps and 4 star-rated toilets. All water use is monitored via the building management system. As a result of these systems being implemented, reliance on municipal potable water sources has been reduced by more than 90 per cent.
Total Innovation
The team behind 1 Bligh Street was awarded five innovation points (out of a possible five) from the GBCA for setting new innovation benchmarks in Australia.These points were awarded for:
Naturally-ventilated double skin façade development and the evaluation of improved amenity for the occupants in relation to view, glare and thermal comfort
Hybrid trigeneration using gas-fired power generation, absorption chillers and solar cooling to reduce peak and annual energy consumption
The tempered environment - applying a different set of comfort criteria to break-out spaces and the main lobby entrance of the building, and maintaining year-round comfort conditions using recycled heat and relief air
Full height naturally-ventilated atrium that encourages occupant wellbeing and satisfaction
Greatly reduced building embodied energy via the use of cement replacement technologies in highstrength concrete without significantly affecting the construction program and structural climbing cycles.
"Achieving five innovation points out of a possible five reflects 1 Bligh Street's position as a truly ground-breaking green building," says the GBCA's Chief Executive, Romilly Madew. "This building will provide a new benchmark for sustainable office space in Australia."
ESD initiatives featured in the project
Indoor Environment Quality
Full height, naturally-ventilated internal atrium
Double skin column-free façade system, promoting maximum
daylight and views
Low VOC paints, sealants, adhesives and carpets are
used throughout the building to improve air quality
Energy
Roof-top solar thermal collectors which inject high-temperature energy into a solar cooling system; provides enough energy to allow 100 per cent more fresh air to be pumped through the building without any additional running costs
Low-temperature VAV hybrid with chilled beam within naturally-ventilated spaces
High-efficiency lighting
Perimeter lighting controlled by automatic photocell control
Timed lighting switches with manual override
Transport
270 bicycle spaces with accompanying locker and shower facilities
Water
The first use of blackwater recycling in a high-rise office building in Sydney that will save 100,000 litres of water a day, equivalent to an Olympic swimming pool every two weeks
Rainwater recycling for irrigation of plants on rooftop
Land Use and Ecology
Glazed and naturally-ventilated wintergarden space at ground floor level.