How to upload documentation
The following outlines the three simple steps you will take to upload documentation, such as your submission.
IMPORTANT: Please ensure that your submission is complete and zipped into one folder prior to uploading to the GBCA Submissions Portal. To see the folder structure, and how to zip your submission, please refer to the Troubleshooting FAQs.
If you encounter any problems along the way, please refer to the Troubleshooting FAQs.
UPDATE: The process of providing submissions to the GBCA has changed. You will now be required to notify us AFTER you upload your submission to the Green Star Project Manager rather than sending us a Submission Notification, which will now not be accepted. Further guidance can be found in "Step 4 - Tell us!" below.
Step 1 – Obtain your username and password
Your Username and Password is available to view in the Green Star Project Manager. Once logged in, simply select the project, and then click on the 'Submission Portal' button at the top of the page.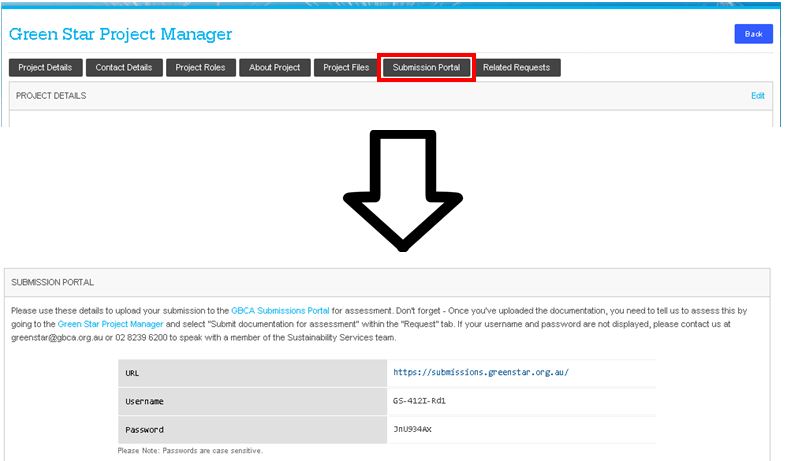 If your username and password are not displayed, please contact us at greenstar@gbca.org.au or call us 02 8239 6200 to speak with a member of the Green Star team.
Step 2 - Log in
Login to GBCA Submissions Portal (https://submissions.greenstar.org.au) with credentials provided by GBCA. These credentials are project specific.
Please note: the Username and Password are case sensitive and space sensitive.
If you experience any problems with uploading documentation using Internet Explorer please try again using Google Chrome.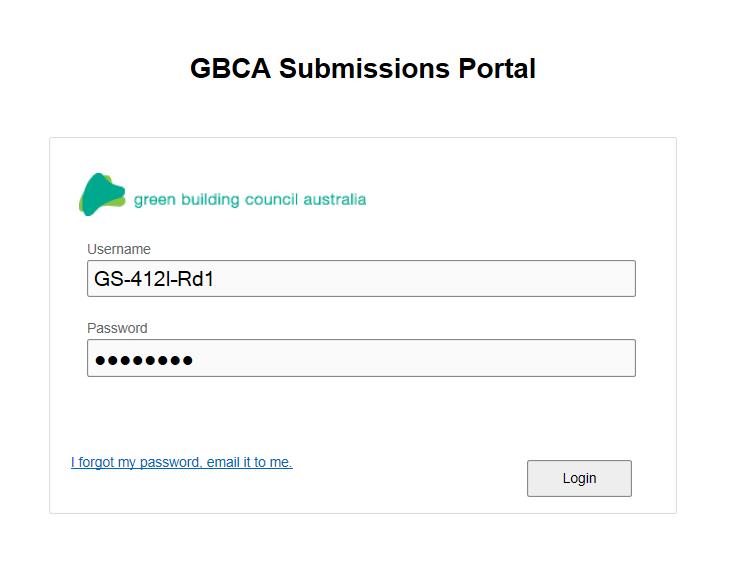 Step 3 – Upload the submission zip file
Click the "Add Files" button.

Browse to where you saved the Submission zip file, and select it.
When you have selected the file it will appear on the webpage. Click the "Start" button to start the upload.

Once the upload is complete a "green tick" will appear. This green tick means that the files have been successfully uploaded.

Click the "Logout" button (top right) and you're done!

If you encounter any problems along the way, please refer to the Troubleshooting FAQs.
Step 4 - Tell us!
Now, all you need to do is let us know your submission is ready to be assessed! To do this, simply go to your Green Star Project Manager and:
- select "New Request",

- choose Click 'Submit for Documentation for Assessment' (1), select the project from the dropdown menu (2), then click next (3) and follow the prompts.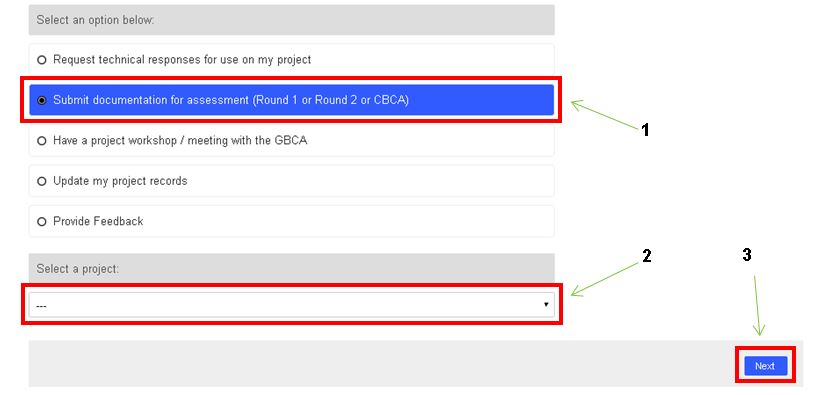 You will then receive email confirmation that we have received your request, and we will contact you within 1-2 business days in relation to your submission.