Green Building Day 2017: Pillars of Change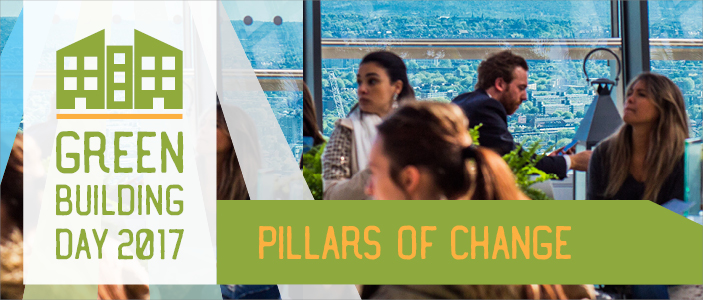 Green Building Day is back in 2017 and aims to inform, engage and inspire our industry to lead the sustainable revolution.
This year's theme 'Pillars of Change' will explore the fundamental actions we need to take as an industry to achieve our collective goals.
These pillars are defined by our strategic plan, offering a roadmap to transformation of the sustainable built environment by 2030.
This full-day conference will feature some of the most influential thought leaders in the green building space to shed light on our core focus areas – planet, people, industry and region.
Mingle with fellow sustainability professionals at the end of the day over networking drinks to catch up, and share ideas and thoughts on the green building landscape.
Be at Green Building Day to take an active role in our industry and help define and strengthen the pillars that will shape the new sustainability agenda.
Green Building Day CPD Points:
6 Green Star Points
3 Sustainable Development Points
Click below to view your state's event.

GBCA National Strategic Sponsor:

Premium Sponsors:
Pit Stop Sponsors:
Networking Drinks Sponsor:

Production Partners:
Session Sponsors: