Bus Tour: Frasers Property Australia Rhodes Tenancy, Fairwater Community, and Martin Brower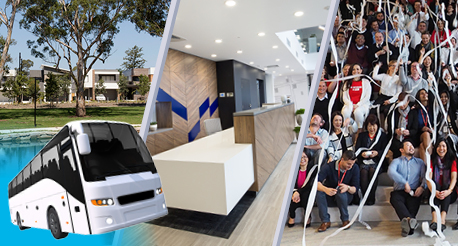 A very special tour of 3 Sites leading the way with 6 Star Green Star Ratings
Rhodes Corporate Park is quickly establishing itself as one of Sydney's premier corporate addresses. With major upgrades, Frasers Property's 6 Star Green Star corporate tenancy has improved air quality with upgrade to air conditioning system and higher filtration; improved light quality, control and efficiency with upgrade to LED lighting with sensor technology and colour temperature of the lighting in open areas changing throughout the day.
In addition it boasts an eco-certified comfortable working environment with less toxic furniture, minimised disruption with acoustic treatments and 30% of desks being of the sit-stand variety.
The Rhodes Corporate Park also includes 2 Green Star Performance certified properties as part of the Frasers Property investment portfolio.
The Fairwater Community by Frasers Property has a residential infill subdivision comprising approximately 640 houses, 215 apartments and approximately 10 hectares of public open space.
This newly built 6 Star Green Star residential community includes geothermal heating and cooling technology as its key point of difference. According to Fraser's Property, Fairwater is the largest geothermal community in the southern hemisphere and the technology will be accessible to every one of the approximately 800 homes on site.
Further, with recycling being a key focus at Fairwater, Frasers have ensured more than 90% of all waste from construction was recycled.
Martin Brower has a warehouse facility incorporating large solar array to generate electricity for the site and rainwater storage plus innovations in construction. The recently completed facility has achieved a 6 Star Green Star Design & As Built (Design Review) rating.
Martin Brower have further reduced their consumption of energy through optimised natural daylight access and smart lighting system with organic response sensors to ensure lights are switched off when not used.
Join us for an opportunity to see 3 Green Star rated projects for a special discount of almost 15% off the usual site tour ticket price.
Event Details
Tickets
Future Green Leader

/

$100.00




FGL Only

Member

/

$145.00




Members Only

Non Member

/

$295.00




Non-Members Only
CPD Points
3 Green Star CPD point(s).
When
Fri 9 Dec, 2016
8:30am - 4:30pm (8:15 registration) (lunch provided)
Add to Calendar
2016-12-09
true
Bus Tour: Frasers Property Australia Rhodes Tenancy, Fairwater Community, and Martin Brower
A very special tour of 3 Sites leading the way with 6 Star Green Star Ratings
179 Elizabeth Street Sydney NSW 2000
Location
179 Elizabeth Street
Sydney NSW 2000
Getting There
Bus departing from the Green Building Council Australia Office at 179 Elizabeth Street, Sydney NSW 2000 at 8:30am and returning to the Green Building Council of Australia Office at 179 Elizabeth Street, Sydney NSW 2000 at 4:30pm