Webinar: Green Bonds - Financing a sustainable future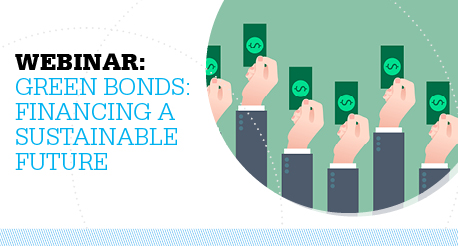 The number of green bonds issued globally tripled to $36.6 billion in 2014, with growth expected to reach $100 billion by the end of 2015. This new source of financing allows issuers to diversify their investor base and direct proceeds to projects with improved environmental outcomes. Good for their pockets, and the environment.
Join us for a webinar with the big players in green bond issuance, to find out how they work, their potential and gain insights from the companies already holding a slice of the pie.
Speakers:
Introduction - Romilly Madew, Chief Executive Officer, Green Building Council of Australia
Market overview - Sara Anzinger, Manager Real Estate Debt & Fixed Income, GRESB
Get a summary of the green bonds market from the leaders in sustainability reporting, then delve into the newly released Green Bond Guidelines for the Real Estate Sector, to see how the Green Bond Principles relate specifically to the real estate and construction sector.
Issuer perspective - Tiernan O'Rourke, Chief Financial Officer, Stockland
In 2014, Stockland became the first Australian company to enter the market with the release of a €300 million green bond. Nearly a year on, we check in to find out what this green bond has allowed them to achieve and any lessons learned in the process.
Underwriter perspective - Violeta Jovanoska, Associate Director, Debt Capital Markets, HSBC Bank Australia
Get an insight from HSBC, the company which underwrote the sale of Stockland's green bond, into the amount of interest in the market and the potential of green bond sales in Australia.
Event Details
Tickets
Member

/

$0.00




Members Only

Non Member

/

$0.00




Non-Members Only

Future Green Leader

/

$0.00




FGL Only
CPD Points
0 Green Star CPD point(s).
When
Tue 6 Oct 2015 4:00pm - 5:00pm
4:00pm - 5:00pm AEDT
Add to Calendar
2015-10-06
true
Webinar: Green Bonds - Financing a sustainable future
Green bonds: Financing a sustainable future
Location
NAT