Site Tour 1: Dr Chau Chak Wing Building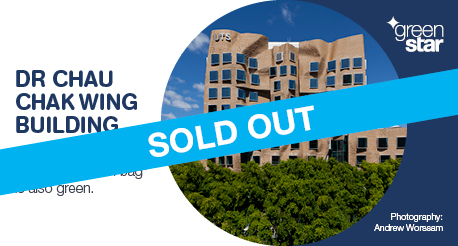 With a truly inspiring architect, Frank Gehry, behind the design of the UTS Business school's new home – The Dr Chau Chak Wing Building – it is hardly surprising this high-performance education facility is the talk of the town. But having achieved one of Australia's only two 5 Star Green Star – Education Design v1 ratings for this project, it's clear that "the most beautiful squashed brown paper bag" is also very green.
From day one Gehry's vision was to create an integrated, future-ready learning environment with the user as top priority. The treehouse inspired design of the Dr Chau Chak Wing Building features two log cabin style oval classrooms on the lower levels, a buzzing, social atmosphere in the main 'trunk' and quiet spaces for focused work, line the building's many 'branches'.
UTS worked with Gehry Partners, Lendlease and others on the project team to ensure 98% of construction waste was recycled, with a 20,000L rainwater tank installed on the roof and a Hungry Giant polystyrene compactor in the basement. They sourced low-VOC flooring, furniture and paints and used only recycled or sustainably-sourced timber. The iconic curvilinear façade was completed through the laying of 32,000 locally-made bricks.
Other sustainability features include:
High-performance glazing; insulated double-glazed curtain walls with solar control and low-emissivity coatings
Zero water use air-cooled chillers
Air-handling units and fan coil units with Carbon Dioxide & Volatile Organic Compound (VOC) sensors, timers and individual controls
Highly visible internal staircases function as "bump space" to connect people, reduce lift energy use and improve health & wellbeing
Energy and water sub-meters connected to campus-wide Energy Management System.
Real-time sustainability performance data linked to digital screens in public areas
60% of car spaces allocated for small, fuel-efficient cars.
Green Star ratings
5 Green Star – Education Design v1 rating
Event Details
Tickets
Future Green Leader

/

$38.50




FGL Only

Member

/

$55.00




Members Only

Non Member

/

$120.00




Non-Members Only
When
Thu 30 Jul 2015 9:00am - 10:00am
Add to Calendar
2015-07-30
true
Site Tour 1: Dr Chau Chak Wing Building
"The most beautiful squashed brown paper bag" is also green.
Corner of Mary Ann street and Omnibus lane
Location
Corner of Mary Ann street and Omnibus lane
Getting There
Please meet at the corner of Mary Ann street and Omnibus lane, not on Ultimo road