Site Tour: University of Queensland - Global Change Institute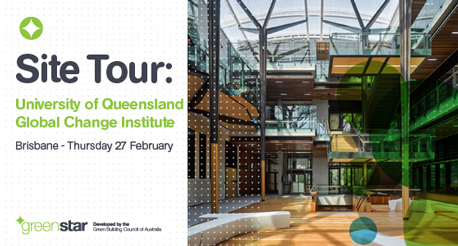 Join us on 27 February 2014 and step inside the ground-breaking Global Change Institute.
Located on the historic St Lucia campus at the University of Queensland, the Global Change Institute is a leading research centre focused on addressing the challenges of global change. The building is also a live research site and a pilot of innovative sustainable building solutions, designed to improve the operation of buildings in sub-tropical climates.
The bold $32 million structure is a 'living building' that aims to work with the environment, rather than consume its resources. This impressive building is powered exclusively by solar energy, has rainwater storage of 60,000 litres and incorporates a green wall, bush tucker garden and bio-retention basin. The centre is also the first building in Australia to include structural use of cement-free, geopolymer pre-cast concrete which has significantly reduced the building's carbon footprint.
Designed by HASSELL the building is targeting a 6 Star Green Star—Education Design rating and a 6 Star Green Star—Education As Built rating.
Event Details
CPD Points
1 Green Star CPD point(s).
Location
Brisbane, QLD