Site Tour: 150 Charlotte St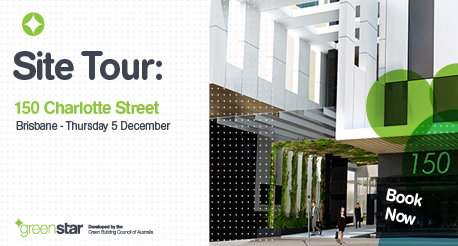 Located in the heart of Brisbane's CBD, 150 Charlotte Street is a high-performance commercial refurbishment that has achieved 4 Star Green Star - Office Design and As Built v3 certifications in 2012 and 2013 respectively. With a strong focus on green initiatives and clever and flexible design, a key objective for the project was to meet the market demand for sustainable and functional workplaces.
A strong focus of the refurbishment works where upgrades to the mechanical, electrical and hydraulic services across areas of the building, including lifts, plant rooms, the foyer, retail spaces and cyclist facilities. Sustainability initiatives included the installation of zoned lighting, the specification of metering for all major water uses, and the re-use of the existing building structure and facade. Indoor environment quality and comfort were another key aspect, with the specification of low-VOC carpets and paints, the lighting and acoustic design that prioritises the comfort and wellbeing of building users.
Join the site tour to discover more of 150 Charlotte Street's sustainable design features.
Event Details
CPD Points
1 Green Star CPD point(s).
Location
150 Charlotte St, Brisbane.
Queensland, 4000