Site Tour: 99 Elizabeth St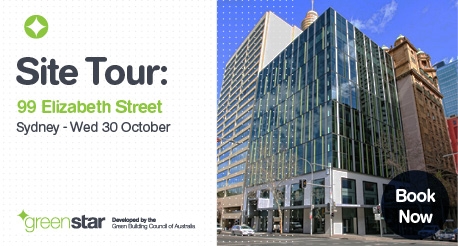 Join us as we explore the sustainable features of 99 Elizabeth Street, Sydney. Achieving a 4 Star Green Star – Office Design v3 certification in March 2013, 99 Elizabeth is one of only five buildings in the CBD (and the only refurbishment) currently registered for an As Built rating under version 3 of the Office rating tool.
The refurbishment encompasses a full re-skin of the existing building, refit of levels B1-13 with new HVAC, water, electrical and occupant amenities and an extension to level 14 with a new external terrace addition. Key sustainable design features including efficient LED motion-controlled lighting, insulated glazing for the curtain wall facade, low VOC paints, carpets and sealants, water metering and the introduction of an advanced building monitoring system.
Join a tour to hear from Kyko Group Development Manager, Richard Huynh on the progression this full-scale sustainable refurbishment project and how the building achieved full points for 'Management' in the design phase.
Book now to earn 1 CPD point.
Event Details
CPD Points
This event does not accrue CPD points.
Location
99 Elizabeth St, Sydney, NSW, 2000