Site Tour: 39 Hunter Street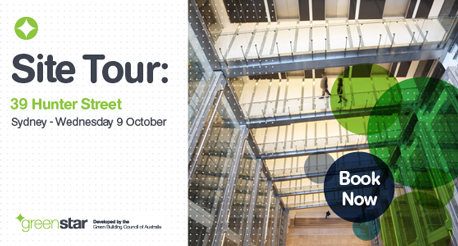 Join the Green Building Council of Australia (GBCA) team as we tour Sydney's 39 Hunter Street on Wednesday 9 October 2013. 39 Hunter gained 6 Star Green Star – Office Design v2 certification in 2008, going on to achieve a 6 Star Green Star – Office As Built v2 rating in February 2011. 39 Hunter was the first heritage building in Australia to achieve a 6 Star rating following extensive refurbishment works of the historic former Perpetual Trustees Building.
Sustainability and rich architectural heritage have been expertly integrated throughout the transformation of 39 Hunter Street, with existing features retained, including vaulted ceilings and heritage decorative columns and beams. Innovative sustainable upgrades complement the restored architecture, to ensure optimal building performance and occupant comfort in addition to classic aesthetic appeal.
39 Hunter features a light-filled internal atrium, daylight and glare control via blinds and shading, comprehensive tuning and commissioning undertaken to ensure optimal building performance, low-VOC and low-formaldehyde materials and finishes, improved ventilation systems for increased air change effectiveness and sub-metering for all major water and energy uses.
Event Details
CPD Points
1 Green Star CPD point(s).
Location
39 Hunter St, Sydney, NSW, 2000