Workplace of the Future Summit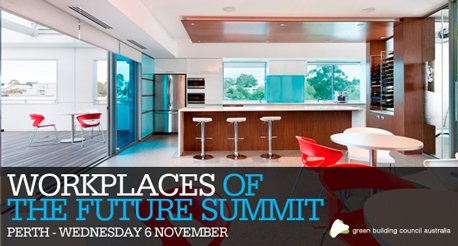 Where and how people work is undergoing a dramatic transformation. Technological advancements, the shift to sustainability, changing demographics, increased focus on productivity and competitiveness are driving a new world of work - and a new way of designing, constructing and engaging with our buildings.
On Wednesday 6 November 2013, the Green Building Council of Australia will bring together the industry's leading workplace designers and thinkers for the Workplaces of the Future Summit.
Sessions will include:
The Workplace Diaspora
At the intersection of sustainability, productivity, technology and cost-saving rests workplaces of the future – working environments that promote flexibility, adaptability, connection, collaboration, creative thinking and mobility. Our expert panel will explore how our workplaces are changing and what that means for our built environment.
Psychology and the Workplace
Productivity, creativity, workplace morale and staff turnover rates are all profoundly affected by the psychology and behaviors of employees within a workplace. In this session, our panel of experts will explore how an understanding and consideration of occupant psychology during the workplace design phase can assist in the creation of happier more productive workplaces.
Green Star-Interiors: Beyond Office Workplaces
With more than 100 Green Star-rated office fitouts already certified, the new Green Star - Interiors rating tool is now set to transform retail, education and hospitality workplaces. Explore the possibilities with our expert panel.
Sessions still under development. Stay tuned for further information.
After attending this event, you will be able to:
- Identify the current trends that are changing the nature of the traditional workplace and what this means for developers, employers and employees
- Describe the benefits of the new Green Star – Interiors rating tool and how it can improve health, sustainability and productivity
- Interpret recent research and findings that provide evidence of the link between a building's environmental performance and employee performance and productivity
- Give real world case study examples of practical implementations of these principles.