Green Building Day 2013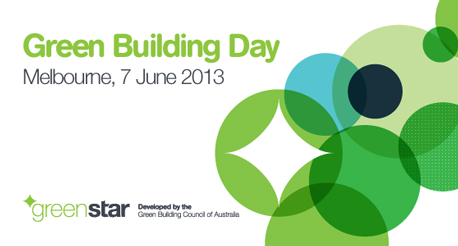 Building upon the huge success of Green Star Day 2012, the GBCA invites you to attend Green Building Day 2013; an exploration of the now, the new and the next of Green Star and sustainable building. Join us as we explore the future of the green building industry in Australia - the trends, predictions, latest market research and Green Star opportunities.
The real impact of Green Star – groundbreaking research
With millions of square metres of building space now Green Star certified, in late 2012 the GBCA commissioned a study to discover what the real impact of your Green Star achievements has been over the last 10 years.
Find out from Green Star Director of Operations, Orjan Lundberg how many thousands of cars you've taken off the roads, millions of litres of drinking water you've saved and thousands of truckloads of waste you've diverted from landfill. You'll also hear about the next phase of research where we'll be looking at further environmental attributes, as well as the financial value of Green Star certification.
The policy behind the project – Governments and Green Star
A Local Government Code, conditions of approval, or an aspirational Mayor, the reasons for Governments' adoption of Green Star are diverse. GBCA Executive Director for Advocacy and Business Services, Robin Mellon, talks about the governments that are leading by example and transforming local attitudes, local economies and local environments through Green Star.
This presentation will also explore the commitments made by all sides of politics to our green building future and how these commitments may affect our industry in a year that is sure to be laden with federal election promises. We will assess the opportunities for our industry in a rapidly changing political landscape and discuss how together we can demonstrate to governments that a Green Star outcome is the best building outcome.
Green Star, the next generation
What does a best practice green building rating tool look like? Green Star, the next generation will examine the growing sustainability rating tool market and the attributes of the best assessment and certification schemes. We'll discuss the future of green ratings with lifecycle analysis, energy modelling and other green building support tools and technologies coming into play, and Executive Director of Green Star Development, Jorge Chapa, will share where Green Star goes next. Quicker, cheaper, easier and online, with the soon-to-be-released Green Star – Performance the first cab off the rank.
What does 'world leadership' look like? How to write a 6 Star success story
The afternoon session sees a panel of project managers from leading industry organisations discuss the secrets to their 6 Star Green Star success – from engaging, to trouble-shooting, to managing expectations.
Green Star Exchange Networking Session

Green Star Exchange is a networking session and your chance to engage directly with the Green Star team and share your ideas on the future of Australia's sustainability rating system.
Location:

The University of Melbourne Brain Centre Auditorium
Corner Genetics Lane and Royale Parade
Parkville VIC 3000

CPD:

Half Day: 6 CPD Points
Full Day: 12 CPD Points



Price:

Half Day/Full Day
Member: $250/$400
Non-Member: $375/$600
Program and Speakers:
TIME

PROGRAM

9.00am - 10.30am

Keynote Presentation
Speaker TBC

Green building traps and trends
Panel Discussion

10.30am - 11.00am
Morning Tea
11.00am - 12.15pm
The real impact of Green Star - first ever research


Orjan Lundberg, Green Building Council Australia




The policy behind the project - Governments and Green Star
Katy Dean, Green Building Council of Australia
Daniel Hartin, Green Building Council of Australia


12.15pm - 1.15pm
Lunch
1.15pm - 2.45pm
Green Star, the next generation


Jorge Chapa, Green Building Council Australia

2.45pm - 3.15pm
Afternoon Tea
3.15pm - 4.30pm
The road to 6 Star success


Panel Discussion:
Jeff Oatman, Green Building Council Australia
Rebecca Breuer, Aurecon (EPA Victoria Fitout)
Hannah Blossom, Irwinconsult (New Horizons)

4.30pm - 6.00pm
Green Star Exchange Networking Session