Smart Cities - 2050 and beyond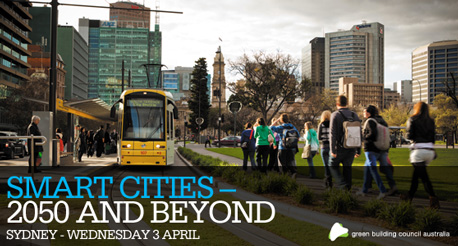 Since the beginning of the industrial age, cities have always represented opportunity, yet it is clear that urban growth presents many challenges to urban planners, designers and administrators – particularly when it comes to transport, resources and waste. 2013 is the time to consider how we can develop 'smarter' cities, utilising new technology, more sustainable approaches to land use, resource management and population health and wellbeing.
In 2013, event partners the Green Building Council of Australia (GBCA) and Consult Australia will bring you Smart Cities – 2050 and beyond – a series of breakfast events covering the key issues, challenges, ideas and solutions for the creation of smart cities for future generations of Australians.
The series begins with a half-day session that covers the key topics to be explored in-depth in subsequent breakfasts in the first half of 2013. Join us on Wednesday 3rd April 2013 as we explore global trends in sustainable city planning, the state and future of our own urban development industry, smart city metrics from transport to the digital economy, and how we can turn our largely individualist approach to urban planning to one of collective endeavour towards smarter, more connected cities - 2050 and beyond. Topics include:
Digital Economy
Transport & Logistics
Health & Wellbeing
Energy, Water & Waste
Knowledge Economy
Speakers include:
Dorte Eklund - Executive Director, Major Cities Unit, Infrastructure Australia
Michael Haines - Chief Executive, VANZI Ltd
Leif Hanlen - Health Director, NICTA
Andrew Purchas - Project Leader, Intelligent Fleet Logistics, NICTA
Neil Temperley - Future Logistics Living Lab, NICTA
Tim Williams - Chief Executive, Committee for Sydney
Facilitator: Megan Motto - Chief Executive, Consult Australia
Cost:
Series Launch $145 per person
Breakfast Series Sessions: $88 per person
Series Launch + all five Breakfast Series Sessions: $545

What's next in the Smart Cities Series?
Digital Economy - Wednesday 1st May
Transport & Logistics - Wednesday 12th June
Health & Wellbeing - Wednesday 24th July
Energy, Water & Waste - Wednesday 14th August
Knowledge Economy - Wednesday 16th October
Event Details
CPD Points
5 Sustainable Development CPD point(s).
Location
Radisson Blu
27 O'Connell Street
Sydney NSW 2000