Site Tour: The Camperdown Project: Common Ground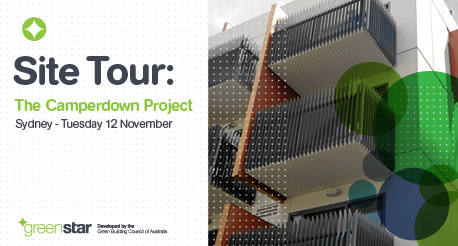 Based on the 'Common Ground' accommodation model first successfully implemented in New York, the 5 Star Green Star – Multi Unit Residential Design v1 certified Camperdown Project – Common Ground provides permanent homes and onsite support services to a social mix of people, including low income workers as well as people exiting long-term chronic homelessness in the inner-city of Sydney.
Built by Grocon, and managed by Mission Australia Housing, the Camperdown Project was initiated as part of a coordinated government response to homelessness and commitment to reducing the number of rough sleepers by 25% by 2013.
This six-storey residential development designed by HASSELL and engineered by Norman Disney & Young includes 104 self-contained units and incorporates Green Star sustainability features including energy-efficient lights and sustainable materials and finishes.
Hear from the members of project team on the unique design brief, why Green Star certification was targeted and the lessons learned from the project before exploring the development's innovative sustainable design features.
Event Details
Tickets
Member

/

$55.00




Members Only

Non-Member

/

$120.00




Non-Members Only
CPD Points
1 Green Star CPD point(s).
Location
31 Pyrmont Bridge Road, Camperdown NSW