Climate Adaptation and Resilience Master-Class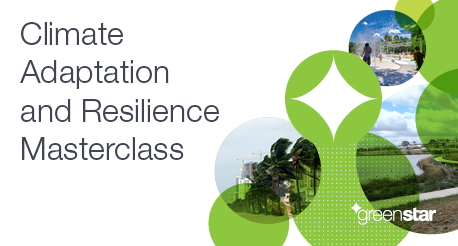 From their recognition in COP21, to the creation of Chief Resilience Officers for the City of Sydney and Melbourne, and their introduction in Green Star, addressing resilience is quickly becoming a method to reduce risk, prioritise responses, and create design and operational solutions that ensure assets are to serve occupants long term.
The Climate Adaptation and Resilience Master Class provides a practical overview of adaptation and resilience issues, equipping participants with the skills needed to deliver more adaptable and resilient buildings, infrastructure, and communities. The course incorporates multiple activities and case studies from the property and community development sector, providing participants with practical and up-to-date knowledge to help them succeed in this important emerging field.
Presented by experts in the field, and joined by an exceptional guest speaker, this course is relevant to those seeking to learn about this emerging and critical field in the built environment.
Is this the course for me?
Climate Adaptation and Resilience Masterclass is designed for:
Consultants who are looking to develop or formalise their adaptation and resilience skills;
Property Professionals who wish to up-skill or better understand the field and requirements of the credit; and
Government and the Public Sector Professionals who are involved in community development, risk mitigation and planning for climate change resilience.
Attendance at this workshop will earn 6 Green Star CPD points.
These course fees includes tuition, course materials, morning tea, lunch and afternoon tea.
Search our calendar to see if this course is being delivered soon.