Climate Adaptation and Resilience Master class
Information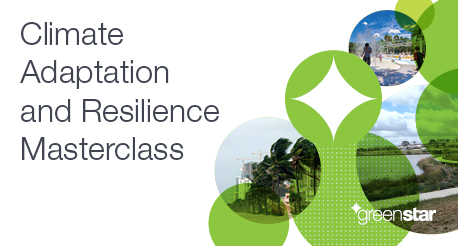 Impacts from climate change are fast becoming a recognised risk for asset owners, developers, government and investors worldwide. From their recognition in COP21, to their development for the City of Sydney, to their introduction in Green Star, resilience and adaptation plans are quickly becoming a method to reduce risk, prioritise responses, and create design and operational solutions that ensure assets are to serve occupants long term.
The Climate Adaptation and Resilience Master Class provides a practical overview of adaptation and resilience issues, equipping participants with the skills needed to deliver more adaptable and resilient buildings and communities.
Presented by Rebecca Miller, and joined by an exceptional guest speaker, this course is relevant to those seeking to learn about this emerging and critical field in the built environment.
About the Course
This practical course incorporates multiple activities and case studies from the property and community development sector, providing participants with practical and up-to-date knowledge to help them succeed in this important emerging field.
Presenter:
Rebecca Miller, Senior Manager - Principal Sustainability and Resilience Specialist at AECOM. As the course presenter, Rebecca brings a wealth of practical experience from her work on resilience for Transport for NSW, City of Sydney, and the Rockefeller Foundation's Asian Cities' Climate Change Resilience Network.
Guest Speaker:
Greg Johnson, National Sustainability Manager, Commercial Property at Stockland. Greg will speak to the challenges that a property manager has in managing climate change impacts on existing buildings portfolios.
Is this the course for me?
Climate Adaptation and Resilience Masterclass is designed for:
Consultants who are looking to develop or formalise their adaptation and resilience skills;
Property Professionals who wish to up-skill or better understand the field and requirements of the credit; and
Government and the Public Sector Professionals who are involved in community development, risk mitigation and planning for climate change resilience.
Attendance at this workshop will earn 6 Green Star CPD points.
These course fees includes tuition, course materials, morning tea, lunch and afternoon tea.
Course Details
Tickets
Future Green Leader

/

$394.55 + GST




FGL Only

Member

/

$563.64 + GST




Members Only

Non Member

/

$795.45 + GST




Non-Members Only
CPD Points
6 Green Star CPD point(s).
When
Thu 26 May, 2016
Add to Calendar
2016-05-26
true
Climate Adaptation and Resilience Master class
Climate projections for our region indicate warmer and drier conditions with increased frequency of natural disasters, including drought and bushfire
AECOM Level 21 , 420 George St, Sydney NSW 2000
Location
AECOM
Level 21 , 420 George St, Sydney NSW 2000
Browse Courses
Nov 2018
S
M
T
W
T
F
S
1
2
3
4
5
6
7
8
9
10
11
12
13
14
15
16
17
18
19
20
21
22
23
24
25
26
27
28
29
30
Browse by Location
Browse By Category