Tackling Air Tightness Seminar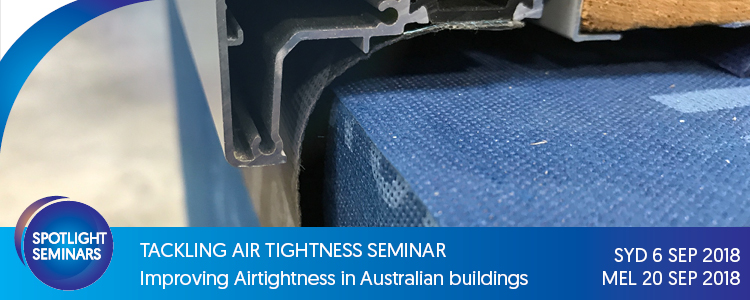 Air tightness is one of the biggest challenges we're facing when it comes to building performance. Ensuring that a whole building is well-sealed creates measurably better performance for both energy efficiency and control of the indoor environment.
The industry is now taking a pro-active approach to develop more efficient air tightness practices for existing and new buildings. GBCA has introduced air tightness credit points, and the National Construction Code will be updated in 2019 to improve current practices.
But what are the common practices and how can the industry improve them? This seminar will provide a comprehensive understanding of air tightness challenges, how to commission air tightness and the intricacies of air tightness testing.
Hear from Sean Maxwell, President of the Air Infiltration and Ventilation Association of Australia as he gives us his perspective on the development of air tightness standards in Australia. Read the full article.
Key topics include:
Air Tightness requirements and legislation developments
Air tightness and Green Star credits
Commissioning techniques to get better results on new and existing buildings
Air Tightness testing and practical examples for commercial and residential buildings
Benefits, value, and challenges of air tightness testing
From standard to best practice
Case studies
Workshop activity: the Red Pen Test
Download the MELBOURNE agenda.
Speakers include:
Chris Nunn, Head of Sustainability, Real Estate, AMP Capital
Peter Mathieson, Technical Director, Built Environment, Aurecon
Nicole Sullivan, Senior Manager, Green Star Solutions, Green Building Council of Australia
Joseph Cheung, Technical Director & Consultant, Efficiency Matrix
Jessica Allen, ESD Consultant, Sustainability House
Rory Martin, Sustainability Manager, Residential, Frasers Property Australia
Milica Tumbas, Principal Architect, Lovell Chen
Clare Parry, Director, Grun Consulting
Ben Mason, Services Manager, Project Design Management, Mirvac
Adam Selvay, Energy & Sustainability Manager,Henley Properties
Sean Maxwell, Technical Manager, Pro Clima, President, Air Infiltration and Ventilation Association of Australia, Deputy Chair, AIRAH Special Technical Group in Building Physics
John Konstantakopoulos, Managing Director, Efficiency Matrix
Ross Tucker, Head of Strategy & Business Development, Lendlease
Devin Grant, Director, Granted Construction
Jeremy Mansfield, Sustainability Manager QLD/NT, Lendlease
Stuart Lee, Craftsmen Quality Builders
Jesse Clarke, Building Science Manager, Pro Clima
What will the course cover?
This one day course will provide comprehensive information on air tightness requirements at an industry and project levels, as well as further clarity on the complexities of the blower door testing with practical exercise. Case study examples will discuss commercial and residential cases.
Why attend?
Get ahead of the problem early and prepare your business for the upcoming regulation changes and to get your green star credits.
Appreciate the importance of air tightness challenges to deliver sustainable and energy efficient buildings
Understand the complexities of air tightness commissioning, testing and results to get better outcomes
Assess how to start planning for air tightness in your current portfolios and future projects
Lead the adoption of best practice air tight buildings to drive the building industry forward
Who is the course designed for?
The course is designed for all the parties involved in the development of a project to deliver air tight buildings and improve air tightness in existing buildings: property developers, architects, engineering Services, ESD Consultants, Local Government, Project Managers, Contractor/Builder, Manufacturer/Supplier.
Plus, in recognising those in project management roles who would only require an industry update and understanding of the issue, we have designed an overview session (Session 1 only), bookable separately.
Early Bird rates are available until COB 23rd August for the Sydney seminar and COB 6th September for the Melbourne seminar. See below rates:
Members: Early bird rate: $599 (Late rate: $699)
Non-members: Early bird rate: $749 (Late rate: $849)
Future Green Leaders: Early bird rate: $419 (Late rate: $490)
Session 1 only: $199(M) / $249 (NM) / $149 (FGL)
Don't forget! This session will earn you CPD points.
Session 1: 2 Green Star CPD points
Full day: 6 Green Star CPD points
Event supporters:
Course details
CPD points
6 Green Star CPD point(s).
Location
Sydney | Melbourne
What's On
For more events and courses coming up at the GBCA, please visit our What's On page.
View More
SQL2Array Error:
Error Details: Object required (424)
Browse Courses
Dec 2023
S
M
T
W
T
F
S
1
2
3
4
5
6
7
8
9
10
11
12
13
14
15
16
17
18
19
20
21
22
23
24
25
26
27
28
29
30
31
Browse by Location
Browse By Category