LCA Course: Sustainable Procurement and Strategy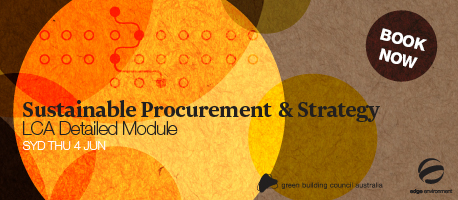 Interested in seeing LCA in Melbourne? Please email us at education@gbca.org.au
LCA Training
Developed by GBCA and Edge Environment, this specialised training course is for any professional looking to upskill in Life Cycle Assessment (LCA) - the most comprehensive method to assess the environmental impacts of products and assets throughout their lifetime.
LCA and Green Star
This leading assessment technique is now integrated into Green Star rating tools via Innovation Challenges and two LCA-based draft credits. So if you're working with Green Star, your project team needs to understand how to work with LCA.
Delivered over a four-part series, each module is tailored to a specific aspect of LCA and sustainable building. You can attend, one or all of the modules delivered face-to-face. We encourage everyone to attend the introductory module, before attending the detailed modules.
Sustainable Procurement and Strategy – LCA Module 4
Sustainability in buildings is about more than design. A procurement process and strategy are critical to effectively embed sustainability into your businesses operations. In this module you will identify which procurement initiatives can have the maximum benefit to your organisation, environmentally, socially and economically.
Who should attend?
Green Star Accredited Professionals, architects, designers, engineers, developers, ESD consultants, building product manufacturers, sustainability managers, building product manufacturers, building product suppliers, product specifiers, procurement professionals, building product industry associations, property/building associations and other environmental specialists.
Learning outcomes
Identify the key sustainability strategies relevant to the participants business
Understand how LCA can be linked to supply chain management and sustainability strategy
Understand sustainable procurement and international standards
Understand the opportunity for innovation to reduce environmental impacts
Other LCA face-to-face modules
Course Details
Tickets
Future Green Leader

/

$297.50




FGL Only

Member

/

$425.00




Members Only

Non Member

/

$550.00




Non-Members Only
When
Thu 4 Jun 2015 8:45am - 12:00pm
Add to Calendar
2015-06-04
true
LCA Course: Sustainable Procurement and Strategy
GBCA Boardroom Level 15, 179 Elizabeth St Sydney NSW
Location
GBCA Boardroom
Level 15, 179 Elizabeth St
Sydney NSW