How do we green our school?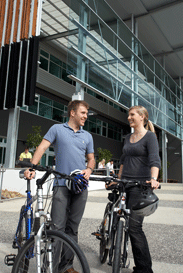 Greening your school is an extraordinarily cost-effective way to enhance student learning, reduce health and operational costs and, ultimately, increase quality and competitiveness.
A green school typically features:
energy and water efficiency strategies
greenhouse gas emission reduction
waste management and recycling
noise, water, air, soil and light pollution prevention
internal spaces designed to maximise daylight and air quality
environmentally responsible building materials and classroom fitouts
close proximity to public transport
facilities that encourage alternative transport methods
productive and healthier environments
flexible and adaptable spaces.
A school building doesn't have to be new to be green. Older schools can undergo green renovations too, and embrace sustainability in their day-to-day learning environment.
Find out more about the positive steps you can take to improve your school's:
Don't forget to engage your students. By working together, you can help them understand that small things can make a big difference. Get them involved in greening your school, and then encourage them to spread the word in your community.
Next steps
The federal government's $14.7 billion school infrastructure package is a golden opportunity to go green.
The Green Building Council of Australia can support schools to improve the environmental performance of new and existing buildings.
With the help of Green Star and sustainable building practices, students of the future will learn a new set of 3Rs - reduce, reuse and recycle.