Green Star Certification Workshop
23 Oct, Brisbane
23 Oct, Perth
23 Nov, Melbourne
27 Nov, Sydney

Green Star Communities Foundation Course
8 Nov, Brisbane
22 Nov, Sydney
27 Nov, Melbourne
Green Star Design & As Built Foundation Course
18 Oct, Sydney
24 Oct, Canberra
25 Oct, Melbourne
31 Oct, Adelaide
12 Nov, Brisbane
Green Star Innovation Course
23 Nov, Melbourne
27 Nov, Sydney
Green Star Office Interiors Course
24 Oct, Adelaide
24 Oct, Brisbane
24 Oct, Perth
Breakfast Forum: The Green Future of Waste
19 Oct, Perth
Site Tour: SA Police HQ
14 Nov, Adelaide

In the Know Member Briefing: Green Star - Interiors
14 Nov, Sydney
20 Nov, Brisbane
22 Nov, Melbourne
27 Nov, Adelaide
29 Nov, Perth

Green Cities 2013
6-7 March, Sydney
GECA LCA Training Series
8-9 Nov, Melbourne
15-16 Nov, Sydney
Building Sustainability Sweden 2012 Conference
18-19 Oct, Sweden
EcoDistricts Summit
23-26 Oct, USA
Green Building Congress 2012
30 Oct - 1 Nov, India
National Telework Week
12-16 Nov

Greenbuild 2012
14-16 Nov, USA
Budget buildings: how to retrofit to reduce running costs
23 Nov, Brisbane
Building Maintenance and Management Conference
27-28 Nov, Sydney
Energy Efficiency Council's National Conference
5-6 Dec, Sydney
New guidance on green leases
As part of the National Strategy on Energy Efficiency, The Australian Government Department of Climate Change and Energy Efficiency has released new resources for tenants and landlords to assist the uptake of green leases - the Tenant's Guide to Green Leases and the Green Lease Handbook. Read more and download the documents.
GPT recognised as most sustainable real estate company
The GBCA congratulates Australian property group, GPT, who have been recognised as the world's most sustainable real estate company in the global 2012/13 Dow Jones Sustainability Index. Read more
Victorian Premier's Sustainability Award winners announced
The GBCA would like to congratulate all of this year's Premier's Sustainability Award winners, including GBCA members - Lend Lease and NAB. See the full list of award-winners

FuturArc Prize & FuturArc Green Leadership Award 2013 entries now open
FurturArc Magazine are inviting entries from sustainability industry professionals for their annual FuturArc Prize Competition and FuturArc Green Leadership Award.

Beautiful past, green future
In the latest edition of Retrofit Australia, GBCA Chief Executive Romilly Madew gave her thoughts on why our heritage buildings should be landmarks not only of our country's architectural history, but of our sustainable future. Read more in Retrofit Australia.
"To achieve our carbon neutral commitment, NAB embarked on an extensive refurbishment program in 2007 to transform our property portfolio. We've achieved great results for our own workspaces, such as the 5 Star Green Star – Office Interiors v1.1 certified NAB Evolution 22 office in Adelaide and 500 Bourke Street in Melbourne. We're now putting what we have learnt through our own environmental initiatives into the development of products, to help our customers. One example is Environmental Upgrade Agreements, an innovative financing mechanism that provides companies access to capital to upgrade their building."
Nicola Murphy, Senior Manager Environment & Sustainability, National Australia Bank.


Green Star Interiors - for any building type
By Romilly Madew, Chief Executive, Green Building Council of Australia


The Green Building Council of Australia is committed to helping more people enjoy comfortable, healthy and productive indoor environments, and the new Green Star – Interiors rating tool, launched today, does just that. Green Star - Interiors can assess the interior fitout of any building type – whether that's a hospital, a hotel, a school, a shop or an office. Read more



Expressions of Interest now open for Green Star – Interiors PILOT projects
Following the Green Star – Interiors PILOT rating tool's release, the GBCA is now seeking expressions of interest from projects around the country to test the rating tool. PILOT projects are provided with the unique opportunity to shape Green Star – Interiors prior to its release as a version 1 rating tool as well as gaining all the benefits of a Green Star rating. Find out more.

New rating tool, new qualification
In line with the release of the new Green Star – Interiors PILOT rating tool, the GBCA has launched the new Green Star Accredited Professional (GSAP) – Interiors qualification. This qualification identifies those members of our industry who are experts in the application of the Green Star – Interiors rating tool. Find out more.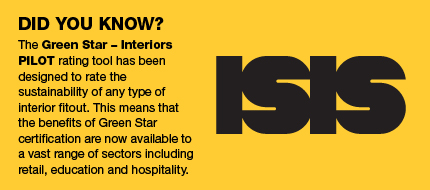 ISIS celebrates new opportunities on the inside
Josh Bruce, Group Manager of Quality, Safety & Sustainability for Green Star – Interiors PILOT Gold Sponsor, ISIS, is excited about the new opportunities that the rating tool will generate for improving occupant experiences and exploring the impact that fitout design has on building users. Read more

HASSELL sponsors Green Star – Interiors
International design firm, HASSELL has become the first Bronze Sponsor of the Green Star - Interiors PILOT rating tool. Read more

Nation's first GSAP – Communities
The GBCA would like to congratulate Kester Ko of AECOM, who has in recent weeks become the nation's first Green Star Accredited Professional (GSAP) - Communities. Read more

National Telework Week
Do you work remotely or from a home office? If so, you are one of the thousands of Australians who telework. National Telework Week, which will take place from 12 – 16 November 2012 invites the workers of Australia to commit to working remotely for one or more days per week and reap the benefits of telework. Read more
Could Canberra be Australia's most sustainable city?
With the ACT election set for Saturday 20 October, GBCA has called on the political leaders of the ACT to strengthen their commitment to more efficient, productive, resource-friendly and sustainable buildings and communities. Read more

Romilly Madew - Woman of Influence
GBCA Chief Executive, Romilly Madew, has been named one of 100 Women of Influence. The 100 Women of Influence Awards, sponsored by Westpac and the Australian Financial Review, recognises the outstanding and inspirational achievements of Australian women across diverse industries and backgrounds. Read more
The World Green Building Week Wrap
Last month our industry celebrated World Green Building Week (WGBW) 2012. From sustainable city walking tours, to twitter chats, to virtual green globe-trotting with Condé Nast – the GBCA would like to thank all of the industry partners who helped to make World Green Building Week 2012 the biggest and best yet. Read more about the 2012 WGBW celebrations.
GBCA State Industry Group members announced
As part of our ongoing efforts to strengthen industry engagement with our members across the nation, the GBCA has now formed State Industry Groups in the key markets of Adelaide, Brisbane, Canberra and Perth. Find out who's representing you in your state.
Sustainable snaps
The GBCA turns ten this year, and to celebrate we're compiling a retrospective of the past decade's green building milestones, events and achievements. If you've got photographs of industry events from the last 10 years, from Green Cities to site openings, please send them through to [email protected]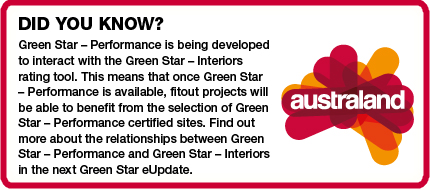 GPT Head Office Fitout
Achieving 6 Star Green Star – Office Interiors v1.1 certification in July 2012, the project has pushed the envelope of sustainable fitouts through the delivery of an exceptionally sustainable 'World Leadership' workspace, all within a building that is more than 30 years-old. With a 96 per cent waste diversion rate and a 97 per cent overall occupant satisfaction, GPT Head Office is truly a sustainable fitout of the future. Read more
One Bush Street, San Francisco CA
One Bush Street in San Francisco (the location for the USGBC's Greenbuild 2012 conference next month) is a 50-year-old, multi-tenanted building that spans 19 floors and nearly 28,000 square metres. The building, which has undergone no major renovations, achieved a LEED Platinum rating from the USGBC under the LEED for Existing Buildings Operations & Maintenance rating tool in 2011. Read more


Eastlink Office Park / WA
5 Star Green Star - Office Design v2
EPA Victoria Office Fitout / VIC
6 Star Green Star - Office Interiors v1.1
Maroochydore Government Office Building / QLD
6 Star Green Star - Office As Built v2
140 William Government Fitout (Stage 1) / WA
5 Star Green Star - Office Interiors v1.1
William McCormack Place 2 / QLD
6 Star Green Star - Office As Built v2
6 Star Green Star - Office Interiors v1.1


Be part of our social media conversation!