Green Star Project Certification Workshop
27 March, Sydney
Consense and WorldGBC Congress 2012
18 June - 20 June, Germany
Lend Lease's Commonwealth Bank Place achieves the first 6 Star Green Star – Office As Built v3 rating.
Grocon's Pixel has received the highest LEED rating in the world.
GPT's 5 Murray Rose at Sydney Olympic Park achieves 6 Star Green Star - Office Design v2 rating.
After seven years as environmental leaders, Bill and Kay Jones have sold Sustainable Living Fabrics and are retiring.
Entries for the 2012 Australian Award for Urban Design are now open.
NDY has won two categories at the prestigious 2012 CIBSE Awards in London, including an award for the Darling Quarter project in Sydney.
The Australian Green Infrastructure Council has launched the Infrastructure Sustainability Rating Scheme.
Nominations for the NSW Government's Green Globe Awards open on 29 March.
From 18-20 June, the world's most influential green building leaders will be at World Green Building Council's Congress in conjunction with CONSENSE, in Stuttgart, Germany.
The USGBC, in conjunction with The Home Depot, has launched an online green home products database.
ABC reports on business seeing the rewards of going green.

"SEDAC Energy Management has been delivering energy savings to our clients in the retail grocery sector for almost a decade. Our approach is proof that sustainability can equal savings."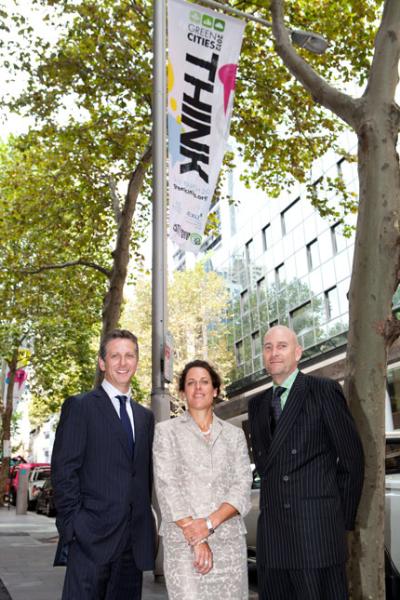 by Romilly Madew, Chief Executive, Green Building Council of Australia
A big thank you to all the people who attended Green Cities 2012. You helped to make it our biggest and best yet.
As the Green Building Council of Australia celebrates its tenth anniversary this year, many of the conference delegates were asking 'what do the next ten years hold?' Green Cities 2012 provided some pointers for what's coming next.
Read the Green Cities Tweetsheet in The Fifth Estate.
Demand for green will grow
Economist Nils Kok told us that "green equals quality", with Green Star-rated buildings showing 5% higher rents and 12% higher return on investment than non-Green Star buildings. With the business case for Green Star firmly established for new buildings, the focus is shifting to existing buildings. Expect Green Star – Performance to radically transform the existing building market in Australia.
Buildings will be built for people
Frank Becker, who specialises in the science of organisational ecology, said: 'If you're really interested in sustainability – sure, you have to put in the right technical systems, but you also have to deal with the people. Too often we don't really understand the people these buildings are built for." Welcome to the era of the 'high performance' building where people are placed 'front and centre' in the planning, design and operation.
We'll unlock the 'idling capacity'
Rachel Botsman told us we needed to move from the old era of "credit, advertising and individual ownership to a new era of 'collaborative consumption' with values of reputation, community and shared access." She challenged us to think about how we unlock the 'idling capacity' within Australia's built environment. How can we better use the idle spaces within our buildings and our cities?
Our buildings and cities must be more adaptable and resilient
Mary Ann Lazarus's presentation on biomimicry reminded us "there is no bling in nature". Responding to and respecting our local environment is imperative.
Cities will move beyond 'environment' to 'sustainability'
Increasingly, we'll address environmental issues (energy, water and emissions) alongside broader holistic issues, such as economic prosperity, housing affordability, community diversity, good design and governance. The Green Star – Communities rating tool will support this shift.
If you didn't make it to Green Cities this year, you can download some of the presentations from the Green Cities website, including our opening video. And don't miss Green Cities 2013: 4-6 March 2013 in Sydney.
Restrictions on 'Design' ratings strengthen Green Star
From 1 January 2013, Green Star – Design ratings will be valid for two years. Read more.
Even more value for GBCA members
There's never been a better year to be a member of the Green Building Council of Australia. A range of new and enhanced activities deliver even more value. Read more.
Easy access to Green Star experience
Check out our new-look membership directory, with comprehensive information on Green Star project experience, Green Star Accredited Professionals, and Green Star Associates at your fingertips.
CPD update
How many CPD points do you need to maintain your Green Star Accredited Professional or Green Star Associate status? Log into your CPD portal to make sure you've claimed all your points. Need a CPD points boost? Check out our new events and courses calendar.
QLD's green future
The GBCA has called on Queensland's political leaders to maintain their strong commitment to sustainable buildings and communities.
Green data centres?
If you have a retail tenancy, hotel, mixed use project or even a data centre, contact us to find out how we can help you achieve a Green Star rating through the Green Star- Custom process.
Innovation and Interiors courses
Our last round of our new Green Star Innovation and Office Interiors courses sold out. Don't miss your place at the next course in your state.
Visit our events and courses calendar to register.
Spotlight: Green Star – Office Interiors v1.1 'Indoor plants'
We're giving plants the green thumbs up! Plants in the office environment can improve employee morale, decrease absenteeism and increase worker efficiency. Read more.

The GBCA's Chairman, Tony Arnel, looks back on a decade of green building and how a radical idea transformed an industry. Read more.
Do you have a burning issue you'd like to explore or an idea you'd like to share? Email us and we'll feature it in the next issue of Green Building Voice.


388 George Street, Sydney
Coca-Cola Place
Coca-Cola Amatil has quenched its thirst for energy and water with a 5 Star Green Star - Office Interiors v1.1 rating for its head office fitout. Located within Coca-Cola Place, a 20-storey office tower awarded a 6 Star Green Star – Office As Built v2 rating, the fitout has reduced CCA's environmental footprint and is demonstrating its commitment to sustainability. Download a case study, or read Evolution 2012 for more stand-out success stories.

UNSW Tyree Building, NSW - 6 Star Green Star — Education Design v1

420 George Street, NSW - 5 Star Green Star — Office As Built v2

ATO Albury, NSW - 5 Star Green Star — Office Design v3

449 Punt Road, VIC - 5 Star Green Star — Office Design v2

RMIT Swanston Academic Building, VIC - 5 Star Green Star — Education Design V1
Zero Carbon Hub
By 2016, all new homes in the UK will be zero carbon. To support this policy, the Zero Carbon Hub – made up of the house-building industry, environmental groups and government – was established in 2008. To date, it has achieved agreement on the new zero carbon home definition and has fostered relationships within a diverse sector and across traditionally opposed stakeholders. How did they do it? Read more.
@GreenCitiesConf on how Green Cities 2012 registered delegates can receive discounts to attend Green Cities 2012 Education Day courses - limited places available. http://greencities.org.au/program-education-day.asp 15Feb
@gbcaus on the planed release of our annual publication Green Building Evolution 2012, visit our booth to get your own free copy! 13 Feb
@SustainUNSW on Tyree's new achievement: The Building Council of Australia just announced 's Tyree Building has been awarded 6 Star Green Stars 10 Feb
@DesignBuildAus on Performance: GBCA Rating Tool Targets Real Performance 6 Feb
@ToufikRefki on current career oportunities at the Green Building Council of Australia, Two positions are currently available: 30 Jan
Be part of the social media conversation!




Like us on facebook and follow us on twitter...