Green buildings for affordable communities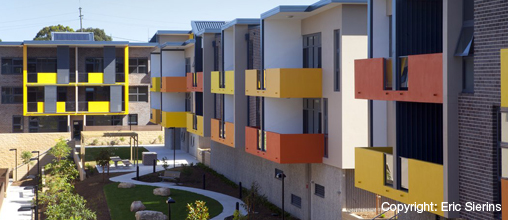 Lilyfield Housing Redevelopment
5 Star Green Star – Multi Unit Residential Design PILOT

Rising energy costs can affect the poorest people in the community the most because they spend a greater proportion of their income on basic living expenses. Green buildings, designed with energy and water efficiency in mind, can make life easier for people on low incomes.

The Lilyfield Housing Redevelopment in Sydney combines smart passive design, such as solar orientation and natural ventilation, with high tech features such as gas-boosted solar hot water systems, 267 square metres of solar panels and a 4 kilowatt photovoltaic system to power common area lighting. The gas-boosted hot water system caters for 60 per cent of hot water consumption and delivers annual savings of $19,000 - or $213 per unit - meaning the annual electricity bill for households will decrease by 25 per cent.