A word from Rom - Heroes who change your life and the world as well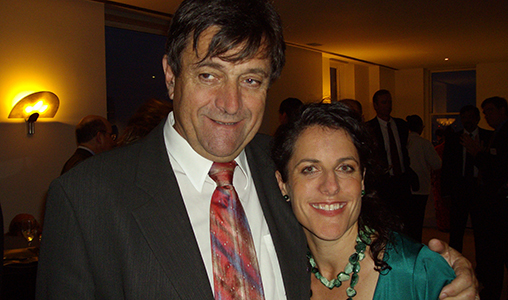 A magnificent Australian and a great friend of the Green Building Council of Australia passed away on the weekend.
Phillip Toyne had a tremendous impact on my life and my career, and also on the success story of the GBCA.
Philip's extraordinary contribution serves as a reminder to everyone in our industry that passion and persistence change lives – and change the world too.
Unbeknown to me, Phillip and I crossed paths during my final year at university in 1990. I was writing my thesis on a cost benefit analysis of a Landcare project in Narromine in Western New South Wales. At that time, Phillip was the director of the Australian Conservation Foundation, and the previous year had forged an improbable partnership with Rick Farley, head of the National Farmers' Federation, to create Landcare. The Australian Government later declared the 1990s the 'Decade of Landcare'.
Delivering his Rick Farley Memorial Lecture in 2006, Phillip said: "It might have been an irresistible political alliance, but it was such an unlikely one – conservative farmers and radical greenies." Phillip demonstrated that people with different political ideologies but common goals could work together to achieve amazing outcomes.
Years later, my winemaker husband David and I met Phillip and his wife Molly Harris-Olson, as our properties were close to each other at Lake George. As our friendship grew, Phillip reignited a passion in the environment that had been festering in me since my uni days. David and I spent hours with Phillip and Molly – arguing, agreeing, debating, disagreeing over politics, the environment, the arts – everything really. Meanwhile, Phillip cooked and Dave poured the wine.
Phillip had an unwavering belief in what is right for the environment and the land. He was the lawyer who successfully lobbied the Hawke Government for direct grant of title to traditional owners of Uluru. He led successful campaigns for ACF on mining in Kakadu, the wet tropics and Antarctica. His presidency of the board of Bush Heritage Australia saw it become one of the world's most influential private land conservation organisations. He helped establish the Steel Stewardship Forum. His awe-inspiring work for reconciliation and land rights will be an enduring legacy.
Phillip pushed people to try harder, to fight harder and to make a stronger case. As a lawyer, he knew when to seek counsel and when to find the middle ground. He always had the end game in sight. In my early years as Chief Executive Officer at the GBCA, it was Phillip who gave me wise counsel on dealing with challenging issues.
Together with Molly, Phillip established the National Sustainable Business Leaders Forum, and regularly gave leaders in our industry, including Daniel Grollo, Peter Verwer, Siobhan Toohill and me a voice – as well as the opportunity to highlight our industry's extraordinary achievements on a national stage.
Phillip's contribution did not gone unnoticed, and he was awarded an Order of Australia in 2012 for "distinguished service to environmental law through executive and advisory roles, particularly the introduction of a National Landcare Program, to the protection and restoration of Australian landscapes, and to the Indigenous community."
As I near a decade at the helm of the GBCA, many things have changed. But Phillip and Molly have been constants. It was from Phillip that I learnt the lesson of balancing business, politics and activism.
Writing of Phillip's passing on the weekend, Bob Brown said "Phillip Toyne has left our nation, and our planet, greener and better equipped, both socially and politically, to face the enormous environmental challenges which lie ahead."
It is easy to get caught up in 'short-termism' and lose sight of the 'end game'. But Philip never did. His wisdom, inspiration and encouragement have been treasured by many people in many industries around Australia. And his tremendous contribution reminds us that, slowly but steadily, change does occur when people with drive, guts and big hearts are determined to do something.