A word from Rom - A thing of beauty is a joy forever

A thing of beauty is a joy forever
Romilly Madew
Chief Executive Officer
Green Building Council of Australia

Consider the buildings that lift your spirit. The sails of the Sydney Opera House? The soaring ceiling of Notre Dame Cathedral in Paris? The quirky yet majestic La Sagrada Família in Barcelona? The sparkling spire of New York's Chrysler building? The perfection of the Pyramids of Giza?
None of these buildings were built for energy efficiency. They were built for beauty.
Philosopher Alain de Botton, in his musings on how to make an attractive city, argues that we currently face an intellectual confusion around beauty. "We think beauty is subjective and that no one has a right to say what's beautiful and what's ugly."
But beauty is not in the eye of the beholder. It is not simply a matter of taste. If it were, we'd be just as keen to visit Birmingham as we are Barcelona.
There are universal qualities of beauty that are found in the fabric of our world – from sunrises over the ocean to starry skies – and these qualities should be reflected in the buildings around us.
The goal of building, de Botton says, "should be to put up things that don't leave us regretting the nature that has been lost – because the architecture is every bit the equal of the designs of nature."

Giza Necropolis, Egypt
A beautiful building is inherently more sustainable than an ugly one. In an article for Sourceable recently, the GBCA's Green Star Executive Director, Jorge Chapa, argued that "beautiful buildings are more likely to endure". Without beauty, a space or a place will not be loved – and over time it will become down-at-heel and eventually disappear altogether. On the flip side, as John Keats said, "a thing of beauty is a joy forever: its loveliness increases; it will never pass into nothingness."
A beautiful building takes its cues from its natural environment – choosing materials found close to hand, responding to the seasons and fitting within the context of its unique landscape. As Michael Pawlyn said at Green Cities 2015 in March, "nature is a design sourcebook of products that benefited from a 3.8 billion year development process."
Beauty is not just what we see – it's also how we feel. A building must feel good to be in too – and compelling research demonstrates the tangible benefits of biophilic buildings, including improved health and wellbeing of patients with access to sunlight and views of nature. For example, the Economics of Biophilia estimates that providing American hospital patients with views of nature can save US$93 million per year.
Another fascinating study from the Pattern Mapping Institute in the US has found that 'aesthetically superior' buildings have a better range of environmental attributes – and that they outperform other green buildings by a factor of four in terms of sustainability.

Basilica i Temple Expiatoria de la Sagrada Familia, Barcelona, Spain
But how do we measure beauty? The Living Building Challenge rating system assesses 'beauty and spirit', and specifies that projects must contain design features intended solely for human delight and the celebration of culture, spirit and place. At a larger scale, the Green Star – Communities rating tool encourages good design through an independent design review. But we must acknowledge that these encouragements of beauty in architecture are merely skin deep – and we have a long way to go before we are once again building places as beautiful the squares and streets of old Europe.
We can't transfer the designs of Michelangelo or Christopher Wren into the 21st century – because we need dreamers and designers who can meet the challenges of our contemporary world. But equally, we cannot focus our efforts solely on efficiency, productivity and long-term investment. We must try to build beautiful, memorable places for people. When we get that right, they'll stand the test of time.
Join us at Green Building Day (Tuesday 19 May in Sydney and Thursday 21 May in Melbourne) to explore what it takes to make great places for people.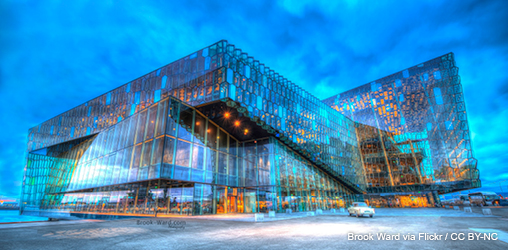 Harpa Concert Hall, Reykjavik, Iceland.