1000 Green Star ratings equals 14 million sqm of green space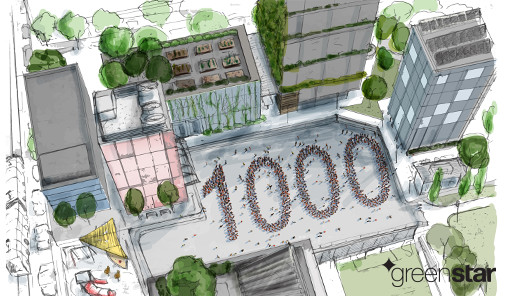 Australia's property and construction industry celebrates an extraordinary milestone today as the Green Building Council of Australia (GBCA) certifies its 1000th Green Star project.
"Since Green Star was launched in 2003, the GBCA has certified more than 14 million square metres of building and precinct space," says the GBCA's Chief Executive Officer, Romilly Madew.
"This is an extraordinary achievement – one that no other industry in Australia has been able to achieve. Through a commitment to collaboration, we worked together to create a voluntary industry standard that sets a high bar. And then, through innovation, technology and knowledge sharing, the industry has delivered 1000 remarkable, sustainable Green Star projects all over Australia."
"Of these 1000 projects, more than 8.1 million square metres is office space – the equivalent to all the existing Premium and A Grade office space in the Sydney, Melbourne, Canberra, Brisbane, Perth and Adelaide CBDs combined.
"Our industry tends to talk in terms of square metres of space, but the positive impact of commitment to sustainability on people is simply staggering.
"More than half a million Australians now work in Green Star-rated offices – that's 4.5 per cent of our total workforce, or more people than live in Canberra or Newcastle.
"These people now enjoy workplaces that are better for their health, as well as better for the environment.
"More than 4,400 people now live in Green Star-rated apartments and upwards of 16,800 students learn in Green Star-certified schools.
"We've also certified a growing number of Green Star – Communities projects which will be home to more than 80,000 people. That's more people than those currently living in Rockhampton.
"We applaud the efforts of every person who has specified, commissioned, designed, constructed, manufactured products for, occupied or managed a Green Star building or community. Your commitment has transformed our buildings, cities and communities.
"The environmental benefits of this achievement are clear. These 1000 Green Star certifications save the equivalent of 128,000 average households' electricity use, and 625,000 tonnes of greenhouse gas emissions each and every year. This is equivalent to removing 175,000 cars from our roads.
"Each of these 1000 Green Star ratings have been achieved voluntarily by an industry that understands business-as-usual is not good enough. The impact of this steadfast commitment can be found throughout Australia – 1000 Green Star projects that are better for the environment and better for our community," Ms Madew concludes.
Contact:
Karen Jamal
Communications Consultant
Green Building Council of Australia
Phone: 0412 179 135
Email: [email protected]