First Green Star hospital ticks green boxes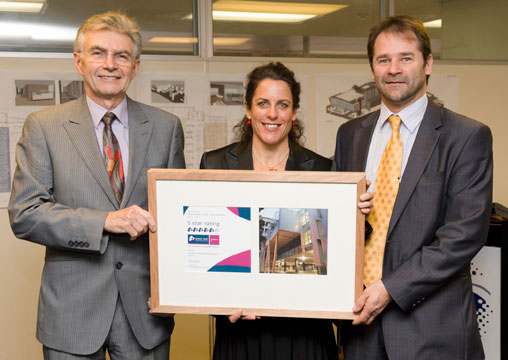 Taking part in opening ceremonies for new Green Star-rated buildings always gives me a thrill. But the opening of the first Green Star-rated hospital in Australia was especially exhilarating.
I recently had the pleasure of handing the first 5 Star Green Star - Healthcare v1 certificate for Flinders Medical Centre - New South Wing to Minister John Hill, the South Australian Minister for Health. The new facility is home to a birthing suite, and a maternity and gynaecology unit, and offers the best possible entry into the world for some of our newest Australians.
The impressive environmental features include the largest solar hot water system in South Australia. The 286 solar panel system is expected to reduce greenhouse gas emissions by 1,100 tonnes each year, and energy costs by around $200,000 each year.
Water saving initiatives - including new water-efficient coolers and a system for harvesting and reusing rainwater - will save the hospital more than 60 million litres of water a year.
As I handed the Minister the certificate, I congratulated the South Australian Government for achieving 'three out of five' for one project in meeting our green building priorities.
Firstly, the South Australian Government illustrated visionary government leadership (Priority One) in both being the platinum sponsor of the Green Star - Healthcare tool, then following through on that early commitment by delivering the first Green Star-rated healthcare facility. Other healthcare projects in South Australia are also registered for Green Star.
Secondly, the SA Government gets a 'tick' for our third priority - greening our schools and hospitals.
Finally, the government supported green upskilling throughout the project and the local industry now has a better understanding of how to build a green healthcare facility than any other state in Australia (Priority Five).
I agreed to give the South Australian Governing a tick for Priority Four - moving beyond buildings to communities and cities - as the South Australian Government is sponsoring the Green Star - Communities tool.
When the Minister rose to speak, he said the project also met Priority Two - retrofit and improve existing buildings - as the whole development was being redeveloped and the existing buildings were being refurbished to the highest possible green standards.
We congratulate the South Australian Government for its strong leadership and look forward to working with other state governments to help them tick all the green boxes.
Romilly Madew
Chief Executive
Green Building Council of Australia