Getting Certified
The Green Star - Performance Online Submission System
In a first for Green Star, the Green Star – Performance PILOT is delivered entirely online. This means that there is no traditional technical manual or scorecard, and you are able to submit all your documentation via an integrated submission platform. Technical guidance and submission guidelines are freely available to GBCA members and registered projects. Others can gain access to this information via a pay-to-view system.
Eligibility
All buildings wishing to register for assessment and certify under Green Star - Performance PILOT must meet the eligibility criteria (PDF, 49KB).
The certification process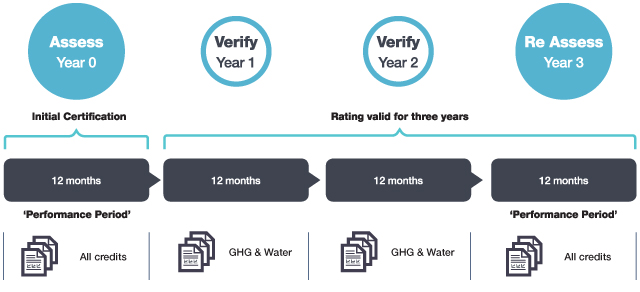 The performance period
A 12 month 'performance period' is the period of time for which your project team gathers and collates auditable data about the operational performance of your building and for the period for which your building is assessed.
Submitting your documentation
Once your building's performance period is complete, your team has 90 days to submit your documentation using the Green Star – Performance online submission platform. Like other Green Star rating tools, there are two rounds of assessment available to help you demonstrate your building's performance in relation to Green Star – Performance PILOT credit benchmarks. Where a second round of assessment occurs, your team must submit your building's Round 2 documentation no more than 90 days following receipt of your Round 1 assessment results.
The Green Star - Performance rating scale
Following an independent, third-party assessment of your building's operation, you gain a certified rating ranging from 1 Star Green Star, through to 6 Star Green Star:
While other Green Star rating tools only certify projects that achieve a 4 Star Green Star outcome or better, Green Star - Performance certifies buildings at all levels. This allows building owners and facilities management teams to set building-specific benchmarks from which they can improve over time.
12 and 24 month performance check-ups
In order to maintain your building's Green Star – Performance PILOT certified rating, your team must submit greenhouse gas and potable water performance data at 12 and 24 months intervals following the end of your building's performance period. These simple checks are submitted online and help to demonstrate that your building is operating at the level at which it was certified, and that your team is undertaking appropriate monitoring for key performance indicators and impact categories.
Re-certification
Throughout your building's three year certification period, your team will monitor your building's performance and where necessary implement improvements to operational procedures. As your certification period comes to an end, your team can resubmit data for all credits as part of a new certification process and achieve a new Green Star – Performance rating. Your building's Green Star rating may increase, decrease, or stay the same, depending on any operational improvement initiatives or works you may have undertaken since your last rating was achieved.
To register your project, you must first submit an expression of interest. Once you've submitted your EOI, a member of our certification team will contact you to formalise your registration.