Sustainable interior design and Green Star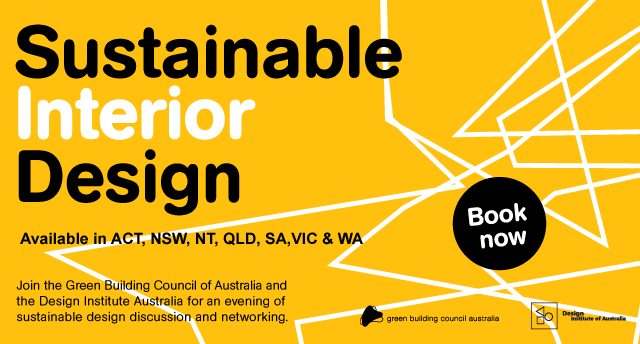 Interested in sustainable interior design and certification? Join the Green Building Council of Australia (GBCA) and the Design Institute Australia (DIA) for an evening of sustainable design discussion and networking.
This exciting event will introduce designers, decorators and architects to sustainable interior design and the Green Star - Interiors rating tool. You will hear from industry leaders on best practice design ideas, join in group discussions and have the chance to network with the best.
This workshop will also introduce you to the many benefits of achieving a Green star-Interiors certification for your interiors project.
Green Star - Interiors
Green Star - Interiors is an exciting environmental rating tool that assesses the sustainability of interior fitouts across a range of sectors. It provides best practice benchmarks and independent verification of sustainability through Green Star certification.
Event Details
Events are being held in capital cities across the country. Click the links below to find out more about an event near you.