Green Star – Communities: Certification

Eligibility

Determining eligibility is an important step to take before registering your project for assessment under Green Star –Communities. It is important to note that registration does not guarantee certification. No project will be certified if it is deemed ineligible against the Eligibility Criteria current at the time of registration or if it does not achieve the relevant number of points for a rating.


At any point in the certification process, project teams can submit an eligibility query free of charge to the GBCA by completing the Project Eligibility Query.
Eligibility Criteria


All buildings aiming to achieve a Green Star – Communities certified rating are subject to the following eligibility criteria:


| | | |
| --- | --- | --- |
| | | Space use |
To meet the Space Use eligibility criterion, a project's plan for development must include the development of any size and mixture of Class 1-9 structures (except Class 4), as classified under the National Construction Code (NCC).
There are no size requirements imposed for Green Star – Communities project eligibility. Instead the rating tool is designed to be used by projects where the majority of the following points would apply:
The development will result in significant extra burdens on public transport systems or highways requiring extra capacity or new transport infrastructure (cycle/pedestrian routes, roads, parking, etc.);
The development includes or makes use of adjacent areas of public realm for occupants and visitors;
The development will lead to the enhancement, diversification or addition of local employment, social mix, or ecological value;
The development includes dwellings that will require the provision of new, or additional capacity in existing, medical centres, schools, retail centres, places of religious worship, and other similar facilities and services;
The scale of the development could create opportunities for community-level provision of utilities including energy, water and waste services or where there would be potential for linking the project to other new or existing developments in the area to make such options viable;
The development is likely to have a significant impact on existing communities.
A project should be able to apply the majority of these statements to their development. It is not an exhaustive list, but a guideline as to the attributes of the types of developments that will benefit from the application of the Green Star – Communities rating tool.


| | | |
| --- | --- | --- |
| | | Timing of certification |

To meet the Timing of Certification criteria:
a) Initial project certification must be achieved within three years of registration; and
b) Recertification must be achieved within five years of initial certification, or within five years from the project's last recertification date.


| | | |
| --- | --- | --- |
| | | Conditional requirements |

To receive a certified rating, the project must:
a) Achieve a minimum Category (excluding Innovation) when seeking a 4, 5 or 6 Green Star rating respectively;
b) Achieve a minimum total of 45 points; and
c) Where the project is subject to approval under the Environmental Protection and Biodiversity Conservation Act 1999 as a controlled action, it must receive written approval under the Act.


| | | |
| --- | --- | --- |
| | | Distinct boundary |
The project must be clearly distinct. This may be a structure plan, master plan, neighbourhood plan, renewal plan or similar. This means the project must have a clear study area boundary that is subject to a 'plan of development'. This plan and/or planning process must be managed by a government entity and/or private sector or community owned development entity.
Certification Process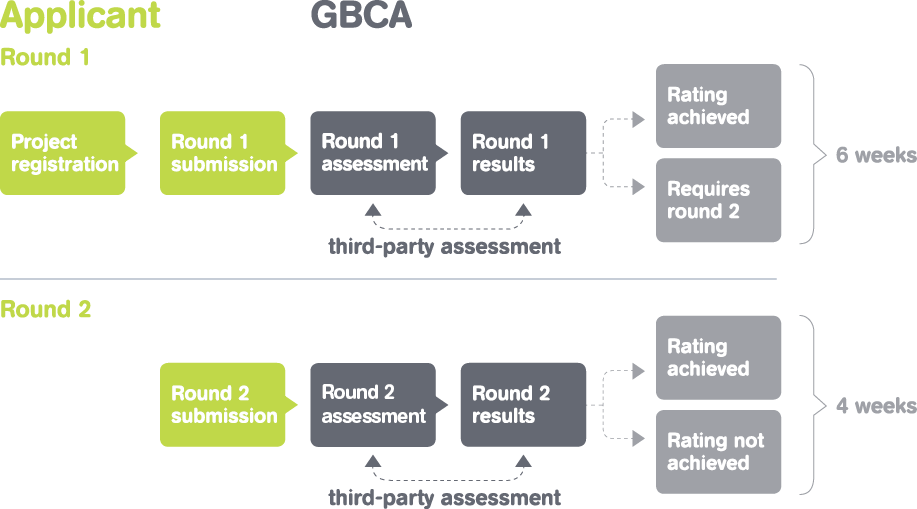 New Generation Assessment process
We've simplified and improved the assessment process for New Generation Rating Tools to make it more efficient, more effective and to help achieve better outcomes.
There are two methods of assessment used in the certification process.
Core assessment: Information provided in the Submission Template is reviewed for compliance.
Comprehensive assessment: Information provided in the Submission Template as well as supporting documentation is assessed for compliance.

The diagram below outlines the stages at which each method of assessment is used.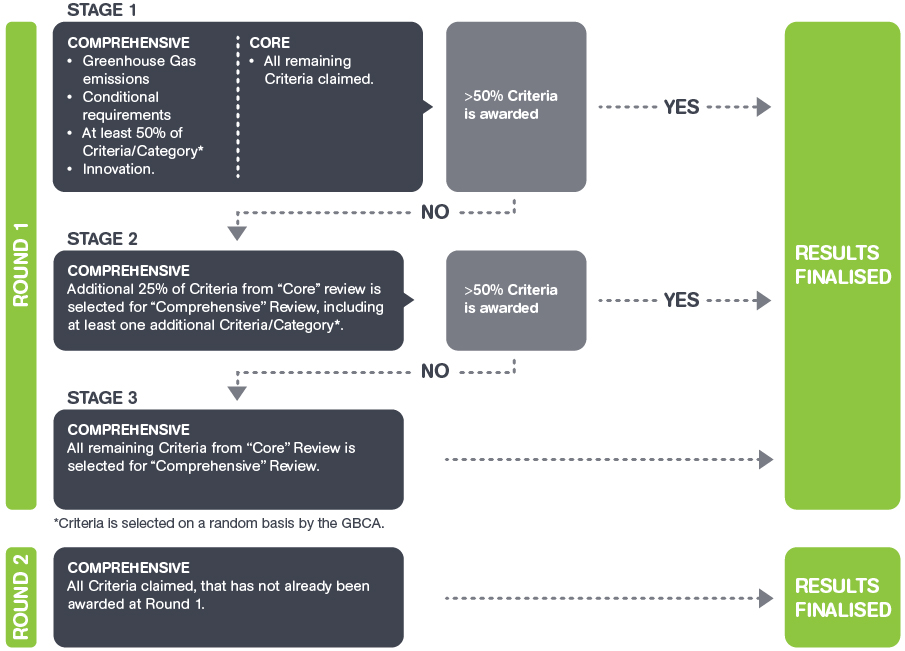 Determining Compliance
Once assessed, Criteria claimed will either be:
Awarded
Awarded – minor non-compliance:
Insignificant errors identified within the submission, and the points are still awarded.
Not Awarded – major non-compliance:
Significant errors identified within the submission, and the points cannot be awarded.
For more detailed information on the new generation assessment process, please download the full process document.
Assessor Interaction
The Assessor Interaction process has been introduced to the Green Star certification process with the aim of facilitating more productive communication between the third party Green Star Certified Assessors and the project teams engaged to undertake a Green Star submission. Opening up the communication for both the Assessors and the project team will improve the quality of the Green Star assessment experience for all involved. A GBCA representative will always be present at any Assessor Interaction between the Assessor and the project contact (usually the GSAP).
The Assessor Interaction process is an opportunity for a project contact to discuss with the Certified Assessor comments in the results, or project subtlety not easily conveyed with submission documentation, and if the usual processes do not adequately facilitate clarity of documentation requirements for the project team. Please note that the Assessor Interaction is not used in place of a submission. Documentation for assessment must still be provided within the submission.
The Assessor Interaction process may be held one month prior to Round 1, and/or within one month of the Round 1 assessment results having been sent. The opportunity to conduct a meeting at other stages of the certification process may be available at the discretion of the GBCA.
If you would like to discuss setting up a meeting for your project please contact your project Case Manager for more details.
Certification Fee


A certification fee applies to projects pursuing Green Star assessment and certification. The certification fee for Green Star – Communities is based on the project applicant's GBCA membership status. To receive the member rate the applicant company must be a member. To become a GBCA member, please register your organisation.
Project type

Discounted Fee
GBCA Members
Full fee
Non GBCA Members

Single project certification

$45,000
$50,000

Local Government single project certification

$35,000

$40,000

Multiple projects

Contact the GBCA and ask for the Market Engagement team for further information

Contact the GBCA and ask for the Market Engagement team for further information
Prices shown are excluding gst. Please be sure to add gst.
*Fees are subject to change without notice.
Things you need to know:
Once a project is registered there is no-refund policy
Projects will not be assessed until payments for all outstanding invoices have been received
Additional fees
Additional fees that may be incurred as follows: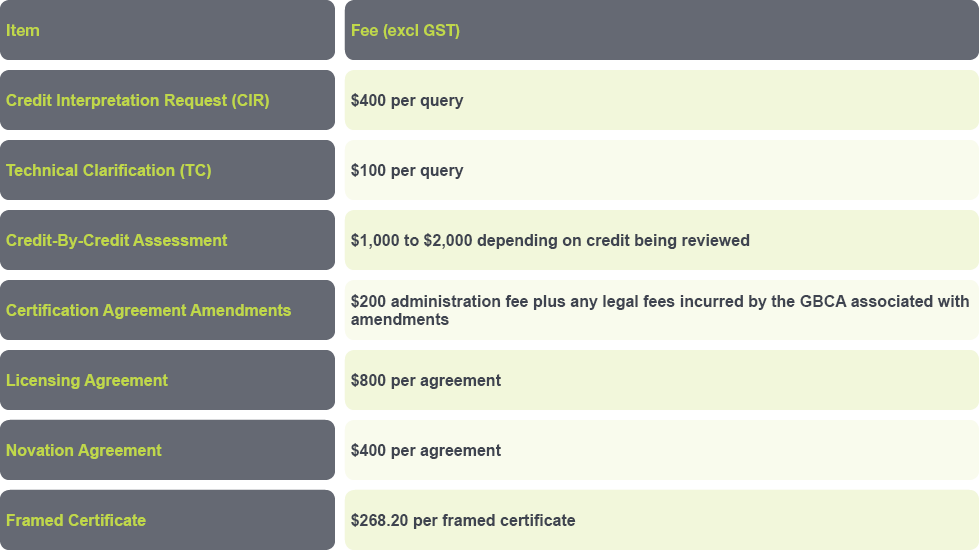 Certification Agreement


Download and review a draft Green Star – Communities Certification Agreement.*Please do not print and sign this document as it is a draft. Once you have completed the registration application online your Case Manager will issue a copy specifically for your project.

*Coming Soon - this document will be linked as soon as it is available
Registration Information


Information required to register your project
1. Details of the project applying for certification (name, address, size, practical completion date, proposed submission date, etc).
2. Details of the Applicant company* and Applicant contact* (name, address, phone number, email address).
3. Details of the Project contact* (name, email, phone number).
4. Details of the Media contact from the Applicant company (name, email, phone number). e.g. marketing/communications manager.
5. Review the Green Star Certification Agreement and Trade Mark Rules:
Please be aware that the Agreement is non-negotiable, as it represents the standard terms and conditions upon which the GBCA is able to provide a voluntary certification service to the Applicant.