Lifestyle Working Collins Street, Melbourne VIC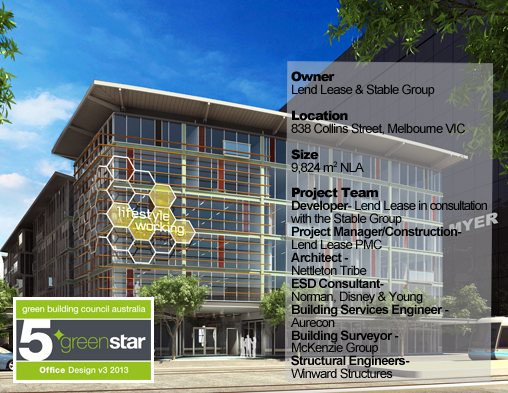 With the highest concentration of Green Star-rated buildings in the country, Melbourne's Victoria Harbour has emerged as one of the most sustainable precincts in Australia.
While Victoria Harbour is fast becoming the location of choice for some of our nation's best known brands, until now the Green Star benefits and rewards have been most often associated with big name players with big budgets to match.
The Stable Group and Lend Lease have bucked this trend, however, introducing Australia's first 5 Star Green Star – Office Design v3 rated strata title office into the Victoria Harbour precinct.
Lifestyle Working Collins Street has been designed to enable small businesses to reap the benefits frequently enjoyed by larger organisations occupying big tenancies. Here, shared meeting rooms and collaborative spaces, leading-edge voice and data technology and sustainable building features can be enjoyed by small business owners.
Victoria Harbour Project Director Claire Johnston says that the precinct is setting a global benchmark for urban development and environmentally sustainable design of built and open space.
"In developing Victoria Harbour, we are aiming to create a welcoming and safe place to live, work and visit – a place that promotes healthy lifestyles, embodies a strong community spirit and where our environment and heritage are celebrated. Lifestyle Working Collins Street will contribute to the diversity of Victoria Harbour's vibrant commercial offering and is a fitting and welcome addition to our precinct," Johnston says.
According to Stable Properties' Group Chairman, Ed Horton, the Lifestyle Working concept is an equitable response to "the demands for commercial buildings to be genuinely sustainable, and in-step with contemporary community and business expectations. As work practices and work places are redefined a new standard in modern office buildings is emerging."

IEQ
Small businesses and sole traders may have limited ability to influence indoor environment quality (IEQ) within their retail or office tenancies. Many businesses rely on inefficient air-conditioning solutions designed for residential use, or outdated whole-of-building solutions that are operated without considering the individual's needs or use of their tenancy. Similarly, small businesses may be forced, through leasing conditions or financial necessity, to use existing fitout components that were not installed with occupant health and wellbeing in mind, such as carpets, paints and furnishings that emit harmful chemicals and contribute to 'sick building' symptoms. At the same time, small business owners are often the least able to afford sick days.
The design of Lifestyle Working Collins Street prioritises the health and comfort of building users, with a focus on optimising thermal comfort conditions, air quality, acoustics and lighting.
"Choice and flexibility are hallmarks of the Lifestyle Working concept - how we work, where we work, when we work and how we manage and control our environment," says Ed Horton. Occupants have the option to engage their highly efficient and cost-effective variable refrigerant volume (VRV) air-conditioning unit within the space, or increase the fresh air to their work area through operable louvred windows. This helps people to regulate the temperature of their workspace, but also significantly reduce tenants' reliance on mechanical air-conditioning systems with their associated energy costs and emissions.
"Passive solutions to indoor air quality management have a financial benefit to building occupants and also empower them to better manage how they control the quality of their air temperature and comfort levels," Horton explains.
Lifestyle Working's design gained all available points under the Green Star 'Volatile Organic Compounds' and 'Formaldehyde Minimisation' credits through the selection of low or zero off-gassing paints, carpets, adhesives and wood products and materials. The elimination of these toxin-emitting products will ensure that Lifestyle Working's occupants enjoy a healthy work environment and are less likely to suffer the headaches and allergies so often associated with 'sick building syndrome'.

Energy
Lifestyle Working's design incorporates a number of energy-efficient features that will not only reduce the building's greenhouse gas emissions and reliance on grid energy, but will also help to reduce utility and owners' corporation costs for both tenants and owners.
The installation of efficient T5 and LED lighting, electrical sub-metering, motion and daylight sensors will all decrease energy-use across the building. Photovoltaic (PV) array systems have been installed to serve the base building and strata offices with clean solar energy.
The base building's PV system allows renewable energy to complement the grid supply for Lifestyle Working's common area uses, with separate 'Solar Lots', as they are known at Lifestyle Working, also available for purchase. Setting a precedent for commercial buildings, these strata-titled solar lots will supply clean solar energy to individual suites, reducing the environmental impact and energy bills for Lifestyle Working occupants – a first of its kind, allowing individual office tenants to be wholly or partly self-sufficient when it comes to energy during daylight hours.
"All of our usable roof area of some 2,000 square metres is dedicated to our 'City Solar Farm'. The system is designed to supply as much as all the base building energy needs during daylight hours," Horton says.

Water
Lifestyle Working joins other Green Star buildings around Victoria Harbour in prioritising water-use reduction. High-efficiency 4 Star WELS-rated dual flush toilets, waterless urinals and 5 Star WELS-rated tapware reduce the amount of water consumed at Lifestyle Working each day. Rainwater is collected and stored onsite in a 45,000 litre tank, and then used for non-potable uses such as landscape irrigation and toilet flushing. Vegetable oil-based waterless urinals further reduce water consumption. Based on Australian Bureau of Meteorology data for rainfall in the Melbourne area over the last decade, it is estimated that Lifestyle Working's rainwater harvesting system will collect more than 1.3 million litres of rainwater for reuse across the building each year.
Cooling towers are traditionally a major source of water consumption in commercial office buildings, with thousands of litres of water a day used to keep air conditioning systems operating effectively. Relying on clever, passive design techniques, Lifestyle Working has no cooling tower, avoiding water-wastage with no common area heating or cooling and, of course, no related cost.

Transport
The central location and proximity to a range of public and low-emissions transport options - including buses, trams and bike paths - is also helping to reduce Lifestyle Working's environmental impact.
"To be genuinely sustainable, buildings need to support a reduced reliance on the motor car. They need to be well-located in relation to good public transport nodes and have sufficient parking for customers and clients of tenants and owners," Horton explains.
The building has no dedicated car parking, which encourages tenants to leave their cars at home. This scored Lifestyle Working full points under the Green Star 'Provision of Car Parking' credit.
In line with Lifestyle Working's sustainable and communal approach to office design and office work, tenants will also have free use of shared electric motor scooters, which are charged from solar energy, during business hours. A fun and sustainable way for building users to get around the CBD, the scooters will help keep Victoria Harbour's streets free of congestion from single-occupant vehicle use and associated carbon emissions.
Lifestyle Working is a highly efficient building in terms of both energy and space utilisation. Meeting rooms, which at Lifestyle Working are called 'privileged spaces', are available at no cost to tenants and owners through a centralised, self-serve booking system. 'Semi-privileged' spaces, located principally on the central bridges spanning the central courtyard, are perfect for impromptu or informal meetings. Lifestyle Working Collins Street also provides free wireless internet in common areas and to each suite within the building. Smart, sustainable, flexible and affordable, this green strata title office opens up a new future for owners and tenants alike.