388 George Street, Sydney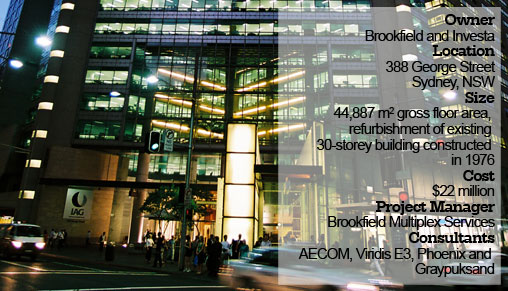 The project at a glance:
4 Star Green Star refurbishment completed with tenant in-situ
Energy consumption reduced by 1.9 million kWh per year compared to the pre-refurbishment levels, equivalent to taking 257 cars off the road
Water demand reduced by 16 per cent, saving 5.5 million litres of water per year.
Brookfield and Investa have transformed IAG House at 388 George Street, a 30-storey commercial office block constructed in 1976, from an energy-guzzling tower into a symbol of sustainability in the heart of Sydney.
In doing so, they have demonstrated that tackling the existing building challenge is not only feasible, but makes good business sense.
"Upgrading IAG House was important for Brookfield, as we are committed to the continuous improvement of energy performance in existing buildings just as much as new buildings," says Kurt Wilkinson, Chief Operating Officer of Brookfield Office Properties Australia. "Our goal is to provide office space of the highest quality while reducing operating costs."
The refurbishment illustrates Brookfield's commitment to finding innovative solutions to environmental and sustainability challenges. These include features such as a rooftop rainwater harvesting system which supplements the cooling towers; use of recycled and repurposed materials in the bathroom renovations; and installation of smart meters throughout the building, which deliver highly-detailed energy usage data.
What makes this achievement all the more impressive is that there was a tenant requirement to remain in-situ, on every floor, during refurbishment works. The project team developed a raft of innovative and sustainable solutions to overcome this challenge. Rather than replace existing systems, such as lift services and the HVAC system, the team reviewed each with the aim of maximising their operational and serviceable life. This reduced new material consumption and disposal of otherwise serviceable items.
Bathroom refurbishment works were undertaken in stages to accommodate the tenants' operational needs and avoid down-time. Materials such as partitions were re-used in order to avoid material wastage and increased resource use, minimising unnecessary additions to landfill. A new dual flush system was installed on all existing toilets to reduce the demand on the municipal water supply.
Detailed coordination and cooperation between tenants and Brookfield's management team ensured that the potentially complex upgrade of a fully-occupied building was executed with minimal disruption to tenants, neighbours or the environment.
"Our experience in collaborating with the tenant and building management teams to ensure after-hours works were carried out seamlessly demonstrates that sustainable retrofits can be undertaken even while fully tenanted," Kurt Wilkinson concludes.
What 388 George Street achieved:


Management
The building will undergo commissioning and building tuning at least every quarter during the first year of operation. This process will ensure that the building maintains optimum energy efficiency and that all systems work to the intent of the design.
On the lower ground floor, 55m2 of dedicated recycling floor space has been provided to make it easier to recycle and therefore reduce total waste going to landfill.
Energy
Electrical sub-metering enables the facilities management team to monitor energy use, and identify and address any excessive use to save both energy and money. Upgrading the base building's lighting to energy-efficient globes resulted in a 10 per cent saving on the total energy costs, when compared to pre-refurbishment. The total energy use of the building has been reduced by 1.9 million kWh per year, equivalent to taking 257 cars from the road for a year.
Water
The refurbishment has reduced water consumption by 5.5 million litres per year. This was achieved by upgrading the building's bathrooms and installing WELS-rated fixtures and fittings. A rainwater harvesting system has also been installed to supplement cooling tower water. This will reduce storm water runoff and lower demand for potable drinking water.