100 Hutt Street, Adelaide


The project at a glance
5 Star Green Star – Office Interiors v1.1
Industry-leading indoor plant initiative
Up to 97 per cent of construction waste, by weight, either reused or recycled.
Built Environs has achieved a 5 Star Green Star – Office Interiors v1.1 rating for the fitout of its head office at 100 Hutt Street in Adelaide. The refurbishment of the building, a two-storey 1980s office block, is designed to improve staff wellbeing while minimising environmental impact.
Rocky Slater, Design Manager at Built Environs, says the fitout will help the company to achieve its goal of leading the construction industry in environmental management. "100 Hutt Street promotes our environmentally-sustainable design and construction credentials," he says.
To improve indoor air quality and staff wellbeing, more than 330 indoor plants were distributed throughout the building; this exceeded the Green Star requirement by more than 25 per cent. Since moving in, Built Environs has taken this even further. The building now houses around 400 plants, and the company is introducing an industry-leading indoor plant initiative for all of its site offices.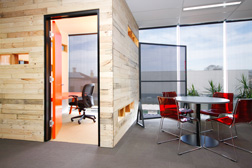 A range of studies have found that plants in the office environment can improve employee morale, decrease absenteeism and increase worker efficiency. Most notably, a study conducted at Washington State University found that productivity increased by as much as 12 percent when people performed tasks in a room with plants.
Recent research carried out by the National Interior Plantscape Association and Professor Margaret Burchett at the University of Technology Sydney has found that potted indoor plants have the ability to clean the air we breathe, decrease carbon dioxide levels and increase oxygen levels. Potted plants can reliably reduce the levels of volatile organic compounds (VOCs) in the air by 75 per cent to below 100 parts per billion, the level identified as crucial by the World Health Organisation. This reduction takes place equally well with or without air conditioning, and in light or dark.
"The presence of plants has been shown to lower workplace stress, decrease fatigue and to enhance productivity through increased wellbeing," Slater says.
As the main tenant of 100 Hutt Street, Built Environs installed rooftop-fed rainwater tanks in the car park basement. This water is then used to sustain the indoor plants, and service both the toilets and the external drip-fed irrigation system.
Built Environs worked with the building owner to improve the environmental performance of the base building and occupied spaces. "It's clear that tenants are increasingly driving the greening of the built environment, despite not owning the structures themselves," Slater says.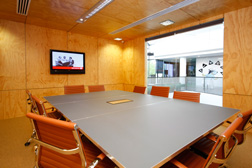 Built Environs recognises that building sustainably is only half the challenge, though, and that changing user attitudes is vital. To encourage responsible paper use, a swipe card printing system was installed, leading to reduced printer use and paper consumption. Slater says this initiative had an immediate impact. "We previously had copious amounts of printed material sitting on the printers that ultimately got placed in the recycling bins at our old location. This needless waste has been eliminated."
Changing driving habits was another goal of the Built Environs team. To foster a greater uptake of small cars, which have a reduced environmental impact, Built Environs dedicated more than 20 per cent of spaces within the building's car park to smaller vehicles.
A primary focus within the fitout was the re-use of materials. Many elements were given a new functional purpose and diverted from landfill, including 44 gallon drums, sourced from the company's plant yard, which are now used as bench seating bases; recycled hardwood palettes have been used as external cladding around the appropriately named 'Palette Room'; and spiral mechanical ductwork has been used as indoor plant surrounds.
Internally, the fitout is designed to maximise staff interaction, with light-filled open plan work areas and engaging breakout areas. Recycled construction materials, FSC-certified timbers and low-emission materials were also selected for the refurbishment, providing a fresh and environmentally-friendly office space for staff.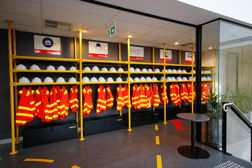 100 Hutt Street sends a clear signal to the rest of the market. As Slater concludes: "We are the first construction company to embrace the Green Star philosophy for our corporate headquarters in South Australia. 100 Hutt Street communicates Built Environs' commitment to sustainability as a leader in the South Australian construction industry."
What 100 Hutt Street achieved
Energy
A building management system provides real-time energy readings, making energy use more tangible and driving behavioural change by providing linking actions, such as turning off computers, to a visible reduction in the building's energy use. Consumption has been further reduced through the installation of a range of high-efficiency appliances, lighting zones fitted with timer and sensor controls, and low-energy consumption mechanical services.
Indoor Environment Quality
Indoor environment quality is enhanced by extensive installation of more than 400 indoor plants. In Built Environs' office, the plants are not only visually appealing, but can reduce eye strain and improve air quality.
Air quality inside the office is further improved by increasing outside air rates by 150 per cent over industry standards, and reducing indoor pollutants by specifying products that are low in VOCs and formaldehyde.
Staff are provided with good access to natural light and external views, which have been found to be directly linked to staff happiness and productivity. In the Built Environs HQ, 60 per cent of all work stations provide access to both.
Management
To achieve full points for the Green Star Accredited Professional (GSAP) credit within the rating tool, applicants must show that at least one principal participant of the tenancy design team is a GSAP. Built Environs committed eight GSAPs to the project, far exceeding the requirement. This approach resulted in comprehensive pre-commissioning, commissioning and building tuning of the fitout, an in-depth tenant guide for staff and near elimination of construction waste reaching landfill. The project team managed to either recycle or reuse up to 97 per cent of all construction waste by weight. This was such an impressive achievement that the federal government's Department of Sustainability, Environment, Water, Population and Communities has developed a case study on the team's waste management plan.
Transport
Employees are encouraged to drive smaller cars, which are more appropriate for city driving conditions, with more than 20 per cent of the building's car park spaces allocated to small vehicles. Cycling facilities, such as lockable bike storage, showers and change facilities, were also installed to encourage bike riding, which is already a passion for a number of the employees.