Certification Process
What is Green Star Certification?
Green Star Certification is a formal process which involves a project using a Green Star rating tool to guide the design or construction process during which a documentation-based submission is collated as proof of this achievement.

The Green Building Council of Australia will commission a panel of third-party Certified Assessors to validate that the documentation for all claimed credits is in adherence with the Compliance Requirements as outlined in the Technical Manual that accompanies each rating tool.

There are two (2) rounds of Assessment available to a project in which to achieve validation of credits claimed. Project teams are notified of their score based on the recommendation of the Assessment Panel and, where applicable, of any innovation credits that have been awarded by the GBCA. If a Certified Rating is awarded, the project will receive a framed certificate, award letter,
marketing kit and relevant Green Star logos.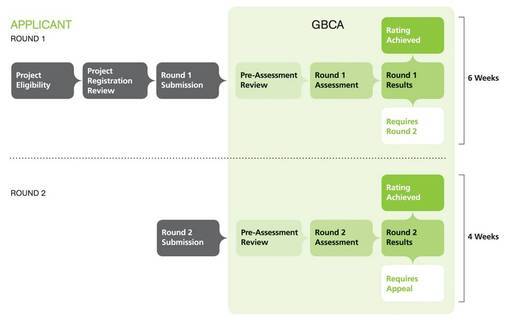 Although Green Star tools are freely available for self-assessment, a design, project or building cannot publicly claim or promote a Green Star rating or use the Green Star rating logo unless the GBCA has validated the project's achievement through formal assessment.