Site Tour: Key Worker Housing Bowden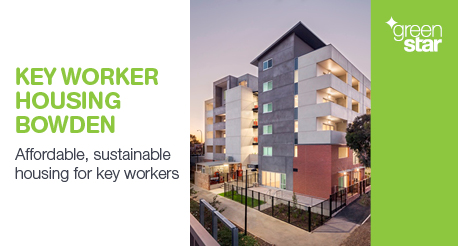 Take a tour with the project team behind a visionary development which provides Green Star-rated housing that is easy on the environment and the resident's pocket.
A vision of Unity Housing and BuildTec, this development offers priority access to affordable housing for essential services workers – such as emergency services personal, teachers and nurses – close to the community they work in. This helps to alleviate the impacts of urban sprawl and is part of a greater vision for Bowden to become a vibrant and well-serviced community.
This 26 home development also prioritises the health and wellbeing of these residents. Achieving a 5 Star Green Star – Design rating, each home offers ample natural light, large overhangs and a healthy airflow centred around an open air communal space.
Other sustainability features include;
Recycled water line reticulated to all toilets and clothes washers
Large portion of structure constructed from precast concrete
Remedial steps taken to decontaminate land before construction
Improvement to the ecological value of the site
Green Star ratings
5 Star Green Star – Multi Unit Residential Design v1
Site tour leaders
Adam Mellow, Executive Manager – Assets, Unity Housing Company
Adam Greaves, National Sustainability Leader, Lucid Consulting
Michael Carrocci, Construction Director, Build Tec
Event Details
Tickets
Future Green Leader

/

$38.50




FGL Only

Member

/

$55.00




Members Only

Non Member

/

$120.00




Non-Members Only
Location
Lot 162 Seventh Street
Bowden, SA 5007
(Meeting Point: Ground Floor Foyer - marked by the GBCA banner)