Site Tour: Plumbing Industry Climate Action Centre (PICAC)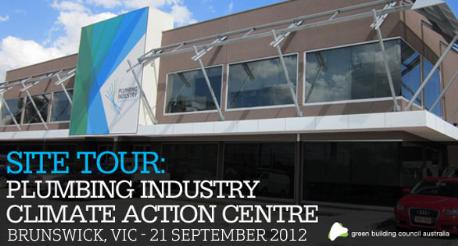 The 5 Star Green Star – Education Design v1 certified Plumbing Industry Climate Action Centre (PICAC) is not just sustainable in itself, but has been purpose built to train plumbers in the design and installation of tomorrow's sustainable hydraulics systems. Join a tour on Friday 21st September 2012 to see these technologies in-situ and stripped back for in-use inspection. Features at PICAC include a micro co-gen engine and absorption chiller, grey water treatment plant, active chilled beams (displayed via transparent ceiling panels), in-slab heating and even a "plumbed-up" demonstration sustainable home on site.
The PICAC building itself is a shining example of 'Australian Excellence' in environmentally sustainable design and features a number of innovative features and green building technologies which will be explored during this exclusive site tour. You will also hear from PICAC ESD and Sustainable Engineering Services consultants Cundall, who will provide insights on the challenges and positive outcomes of designing such a unique and highly-customised facility.
Date: Friday 21st September
Time: 8:30 – 9:30pm
Location: 306-312 Albert Street Brunswick VIC 3056
CPD points: This event accrues 1 CPD point
Cost: $55