Site Tour - 500 Bourke Street and NAB Tenancy SOLD OUT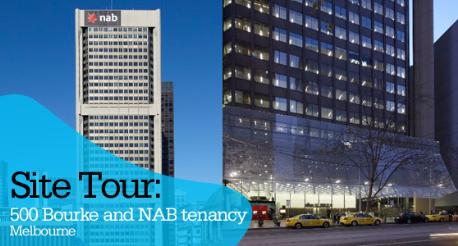 Join the Green Building Council of Australia (GBCA) team as we take a tour of ISPT-owned 500 Bourke Street and NAB tenancy on Tuesday 1 May 2012. As sole occupants of 500 Bourke, NAB are tenanted within a highly sustainable building, which has undergone significant base building refurbishment works to receive 5 Star Green Star – Office Design v2 and 5 Star Green Star - Office As Built v2 certifications. Completing the Green Star rating set, NAB's fitout has also recently received 5 Star Green Star – Office Interiors v1.1 certification.
NAB has been the sole tenant of 500 Bourke Street since it was originally constructed in 1978, and the long history and strong partnership between the bank and building owners ISPT, has allowed for a simultaneous redevelopment of the base building and fitout. Such an integrated and collaborative approach to the project allowed the majority of NAB staff to occupy the building throughout the refurbishment – with building management simply moving staff to the redeveloped floors as they were completed.

Sustainable features of the 500 Bourke Street refurbishment include upgrades to the building management system for increased efficiency and flexibility, rezoned lighting and the installation of an energy-efficient lighting control system, upgrades to the building's existing air-conditioning system (including new plant and the replacement of valves, filters and controls), installation of water-efficient fittings, rainwater harvesting for use in irrigation and toilet flushing, and upgraded lockers, showers and bike storage facilities.
Join a tour to hear from ISPT on the decision to refurbish the existing building over redevelopment of the site, the role that Green Star has played in achieving better sustainability outcomes for 500 Bourke Street, and the challenges faced and lessons learned by NAB in maintaining full occupancy throughout the refurbishment.
Date:
Tuesday 1 May 2012
Time:
Tour 1: 8:00 - 9:00am
Tour 2: 9:00 - 10:00am
Tour 3: 10:00 - 11:00am
Location:
500 Bourke Street Melbourne VIC 3000
Tickets:
$55 Member Individual
$120 Non-Member Individual
CPD Points:
This event accrues 1 CPD Point