Site Tour - Kangan Institute Automotive Centre of Excellence (ACE) SOLD OUT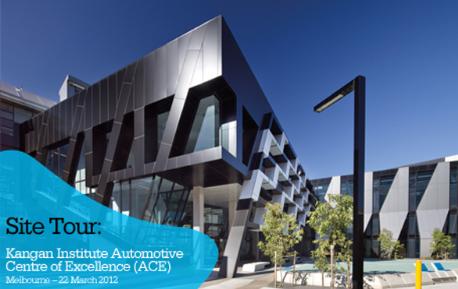 Join the Green Building Council of Australia (GBCA) team as we take a tour of Melbourne's Kangan Institute Automotive Centre of Excellence (ACE). A pioneering development, ACE was designed as the first dedicated automotive training facility in the southern hemisphere, and is the first building in Australia to incorporate both BATISO active mass cooling and night sky cooling.
ACE has achieved rare dual Green Star design ratings, holding both 5 Star Green Star – Office Design v1 and 5 Star Green Star – Education Design v1 certifications. With sustainable design features including thermal chimneys, natural ventilation optimisation and chilled beam technology, ACE's operational energy demand is significantly reduced. Water efficiency measures have also reduced water consumption well below that of comparable standard buildings.
The project team's integrated approach to design has resulted in a world-class sustainable education development that will inspire occupants to live and work sustainably into the future.
Date:
Thursday 22 March 2012
Time:
Tour 1: 8-9am
Tour 2: 9-10am
Tour 3: 10-11am
Location:
1 Batman's Hill Drive
Docklands VIC 3008
Tickets:
Member Individual $55
Non-Member Individual $95
CPD Points:
This event accrues 1 CPD Point