Site Tour - 123 Albert Street SOLD OUT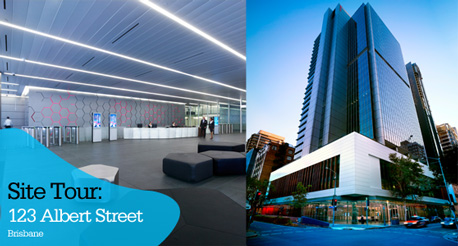 The Green Building Council of Australia (GBCA) team will be touring Brisbane's 123 Albert Street on Wednesday 16 May 2012, and this is your invitation to join us. DEXUS Property Group's 123 Albert Street was awarded 6 Star Green Star – Office Design v2 certification in 2009, and contributes to the city skyline a striking example of "World Leadership" sustainable design. As a complement to its design rating, 123 Albert Street is now also targeting 6 Star Green Star – Office As Built v2 certification. The development's sought-after combination of premium space, location and sustainability has attracted blue chip tenants such as Rio Tinto, Urbis and Bentleys.
With 26 levels of office space, a light-filled ground floor reception area and street-level retail space, 123 Albert offers some of the largest floor plates available in the Brisbane CBD and is located within close proximity to major commuter public transport bus, rail and ferry hubs. Sustainable building features include chilled beam air conditioning, rain water collection for use in landscape irrigation, toilet flushing and cooling towers, trigeneration technology that significantly reduces peak electricity consumption, blinds and shading for glare reduction and low VOC finishes throughout.
Come along to explore 123 Albert Street's innovative sustainable features, hear from the project team about 123 Albert's design and construction and the progress of the development's As Built submission.
Date:
Wednesday 16 May 2012
Time:
Tour 1 - 9:00 - 9:45am SOLD OUT
Tour 2 - 10:00 - 10:45am
Tour 3 - 11:00 - 11:45am SOLD OUT
Location:
123 Albert Street, Brisbane QLD 4000
Tickets:
$55 Member Individual
$120 Non-Member Individual
CPD Points:
This event accrues 1 CPD point
In partnership with: