Site Tour - Serrata, Victoria Harbour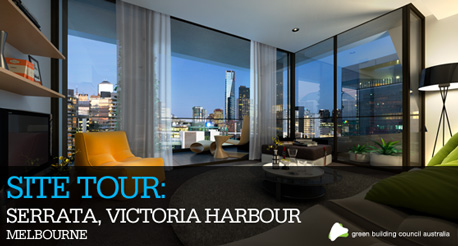 Join Green Building Council of Australia (GBCA) on Tuesday 5 June as we tour Serrata, a new multi unit residential development, located at Victoria Harbour in Melbourne's Docklands. Serrata achieved 4 Star Green Star – Multi Unit Residential Design v1 certification in January 2012, representing another important step forward for the ongoing sustainable development of the Docklands precinct.
Serrata is among only a handful of residential developments that have achieved Green Star certification nationwide, and Serrata developer Lend Lease, has shown true sustainability leadership, not only through the delivery of the Serrata project, but that of several other residential developments that have been certified under the Green Star – Multi Unit Residential Design PILOT tool, or are registered for a rating under version 1 of the tool within the Docklands precinct.
With a focus on first principle, passive architectural design, Serrata sets the standard for the effective delivery of Green Star - Multi Unit Residential projects through the incorporation of innovative sustainable features including:
low emissivity glass for maximum energy efficiency
proximity to public transport hubs, parklands and recreation areas
centralised gas hot water system with individual metering to monitor usage
motion controlled lighting to common areas
minimal sub-surface parking
rain water collection for landscape irrigation and toilet flushing.
Join GBCA and the Serrata project team for your chance to see the finished development's ESD features, hear all about the achievement of Serrata's 4 Star Green Star – Multi Unit Residential Design v1 rating, and get an update on all the latest sustainable development initiatives within Victoria Harbor and the wider Docklands precinct.
---

Date:

Tuesday 5 June 2012

Time:

Tour 1: 2 - 3pm
Tour 2: 3 - 4pm
Tour 3: 4 - 5pm

Location:

817 Bourke Street, Victoria Harbour
Melbourne VIC 3008

CPD Points:

This event accrues 1 CPD point.

---