Climate Adaptation and Resilience Masterclass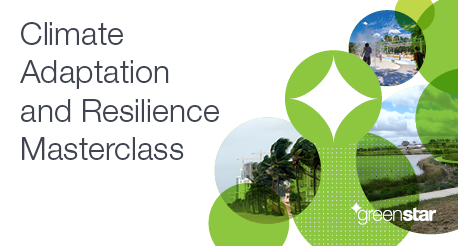 With initiatives like the 100 Resilient Cities program pioneered by the Rockefeller Foundation being delivered in Sydney and Melbourne, as well as the Australian Business roundtable on Disaster Resilience and Safer Communities, there is an increasing interest and groundswell in the field of resilience.
But what is it and how do we ensure our communities are primed to be more resilient to the range of shocks and stresses they are set to face?
Find out as we bring our Climate Adaptation and Resilience Masterclass to Sydney.
The masterclass provides a practical overview of adaptation and resilience issues, equipping participants with the skills needed to deliver more adaptable and resilient buildings and communities.
This course is relevant to those seeking to learn about this emerging and critical field in the built environment. This practical course incorporates multiple activities and case studies from the property and community development sector, providing participants with practical and up-to-date knowledge to help them succeed in this important emerging field.
By the end of the master class participants should have:
An understanding of how resilience practice has evolved and emerged
An understanding of key concepts and terminology that underpin resilient communities including 'what do we mean we talk about resilience?'
An appreciation of the diverse range of approaches and interventions that can be made to help build resilience within cities and communities - including leading examples of how organisations are addressing resilience at both a business/community level and at a city scale.
An understanding of how GBCA is supporting and helping further the resilience agenda through the Green Star Communities tool.
Included in the Masterclass is an e-learning module that will provide an overview of the context and requirements for the application of the Climate Adaptation Green Star credits. This can be accessed by participants following the face to face Masterclass.
Note: while this session will provide information on how to address the Community Resilience credit within the Green Star Communities tool it is primarily designed to provide a more holistic understanding of the practice of resilience more generally and understand how we can start to embed resilience into our planning and decision-making processes and ultimately inform healthier, more liveable and sustainable communities.
Is this the course for me?
The Climate Adaptation and Resilience Masterclass is designed for:
Consultants who are looking to develop or formalise their adaptation and resilience skills;
Property Professionals who wish to up-skill or better understand the field and requirements of the credit; and
Government and the Public Sector Professionals who are involved in community development, risk mitigation and planning for climate change resilience
Attendance at this workshop will earn 6 Green Star CPD points. Completion of the e-learning module will earn 1 CPD point.
These course fees includes face to face tuition (including morning tea, lunch and afternoon tea and course materials) and one 1/1/2 hr e-learning module.
Course Details
Tickets
Future Green Leader

/

$434.00




FGL Only

Member

/

$620.00




Members Only

Non Member

/

$875.00




Non-Members Only
Location
Aecom
Bondi Room, Level 21, 420 George Street
Sydney, NSW, 2000
Browse Courses
Dec 2017
S
M
T
W
T
F
S
1
2
3
4
5
6
7
8
9
10
11
12
13
14
15
16
17
18
19
20
21
22
23
24
25
26
27
28
29
30
31
Questions? Find out more about GBCA Education in the FAQs
Browse by Location
Browse By Category