Green Star - Design & As Built Foundation Course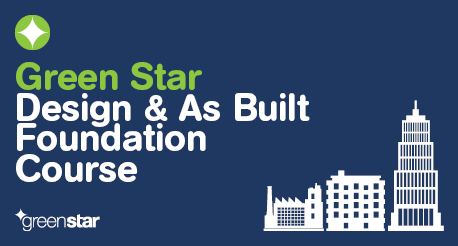 Since its release, more than 100 buildings and fit-outs have registered for Green Star – Design & As Built and Green Star – Interiors.
We've seen Commonwealth Bank, Frasers Property Australia and Renewal SA, among others, deliver award winning, sustainable projects that are now enjoyed by residents and employees alike.
Projects and organisations are reaping the benefits of a rating tool that helps them achieve world leading outcomes – and provides internationally recognised certification.
This course is a mix of independent study and participation in a full day training workshop, with content covering the application of the Green Star – Design & As Built rating tool, the certification process, and the business case for designing and constructing sustainable buildings.
Attendees will be able to use the rating tool as a framework for creating more sustainable buildings and places, identifying change opportunities through volume certification, and realising the many benefits of sustainable design and construction.
Learning outcomes
The learning format consists of a lecture, Q&A, case studies and small group activities.
You'll gain:
knowledge of the principles underpinning Green Star – Design & As Built
an awareness of the outcomes sought by the rating tool
an understanding of the certification process
an appreciation of the challenges and opportunities that must be met to deliver a world-class building; and
an understanding of what is required to deliver a successful rating.
Participants will also hear from the project team involved with certifying the first Design & As Built project and will get an exclusive site tour of certified space at 69 Robertson Street.
The Green Star – Design & As Built Foundation Course is an important first step towards becoming a Green Star Accredited Professional (GSAP).
Who should attend?
This course is relevant for those who are interested in achieving a Green Star – Design & As Built rating, improving the design and construction of buildings and looking to future-proof their assets.
The course fee includes tuition, the Green Star Foundation Course Workbook, morning tea, lunch and afternoon tea.
Course Details
Tickets
Future Green Leader

/

$520.00




FGL Only

Member

/

$699.00




Members Only

Non Member

/

$975.00




Non-Members Only
Location
Floth Pty Ltd,
69 Robertson St,
Fortitude Valley QLD Brisbane 4006
Browse Courses
Dec 2017
S
M
T
W
T
F
S
1
2
3
4
5
6
7
8
9
10
11
12
13
14
15
16
17
18
19
20
21
22
23
24
25
26
27
28
29
30
31
Questions? Find out more about GBCA Education in the FAQs
Browse by Location
Browse By Category