Climate Adaptation and Resilience Master class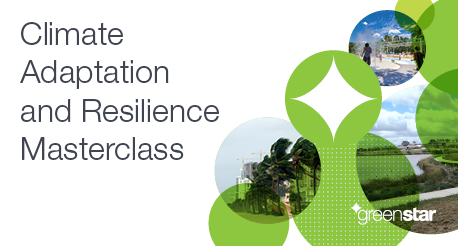 Impacts from climate change are fast becoming a recognised risk for asset owners, developers, government and investors worldwide. From their recognition in COP21, to their development for the City of Sydney, to their introduction in Green Star, resilience and adaptation plans are quickly becoming a method to reduce risk, prioritise responses, and create design and operational solutions that ensure assets are to serve occupants long term.
The Climate Adaptation and Resilience Master Class provides a practical overview of adaptation and resilience issues, equipping participants with the skills needed to deliver more adaptable and resilient buildings and communities.
Presented by Michael Lord, and joined by an exceptional guest speaker, this course is relevant to those seeking to learn about this emerging and critical field in the built environment.
About the Course
This practical course incorporates multiple activities and case studies from the property and community development sector, providing participants with practical and up-to-date knowledge to help them succeed in this important emerging field.
Presenter:
Michael Lord, Senior Manager - Research Director at Beyond Zero Emissions. As the course presenter, Michael brings a wealth of practical experience having worked on climate change in the public and private sectors in the UK and Australia, carrying out many climate change risk assessments, including reports to meet the requirements of Green Star Adaptation and Resilience credits. He has also developed guidance for several sectors on how to assess and manage risks from climate change and natural hazards.
Guest Speaker:
Maree Grenfell, Resilience Coordinator - Resilient Melbourne, City of Melbourne. Maree Grenfell is coordinator of the City of Melbourne's Resilient Melbourne project—formed as part of the Rockefeller Foundation's 100 Resilient Cities program, which helps cities adjust to the modern world's shocks and stresses. Maree has over 15 years' experience in both private and government sectors to deliver dynamic change management encouraging new mindsets for deeper sustainability outcomes.
Is this the course for me?
Climate Adaptation and Resilience Masterclass is designed for:
Consultants who are looking to develop or formalise their adaptation and resilience skills;
Property Professionals who wish to up-skill or better understand the field and requirements of the credit; and
Government and the Public Sector Professionals who are involved in community development, risk mitigation and planning for climate change resilience.
Attendance at this workshop will earn 6 Green Star CPD points.
These course fees includes tuition, course materials, morning tea, lunch and afternoon tea.
XX
Course Details
Tickets
Future Green Leader

/

$434.00




FGL Only

Member

/

$620.00




Members Only

Non Member

/

$875.00




Non-Members Only
Location
John Holland
70 Trenerry Cr.
Abbotsford 3067, Victoria
Browse Courses
Dec 2017
S
M
T
W
T
F
S
1
2
3
4
5
6
7
8
9
10
11
12
13
14
15
16
17
18
19
20
21
22
23
24
25
26
27
28
29
30
31
Questions? Find out more about GBCA Education in the FAQs
Browse by Location
Browse By Category