LCA Course: Sustainable Procurement and Strategy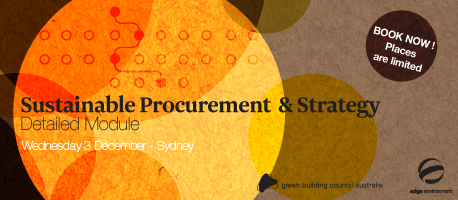 GBCA and Edge Environment have partnered together to bring you a specialised training course focused on Life Cycle Assessment (LCA).
LCA is the most comprehensive method to assess the environmental impacts of products and assets throughout their lifetime. This leading assessment technique is now integrated into Green Star rating tools via innovation challenges and two LCA-based draft credits. So if you, your customers or your suppliers, are working with Green Star, your project team needs to understand how to work with LCA.
About the course
Delivered over a four-part series, each module is tailored to a specific aspect of sustainable building. You can attend, one or all of the modules delivered face-to-face or via webinar.
We encourage you to attend as many sessions as possible.
Course leaders include:
Module 4 - Linking LCA to Sustainable Procurement and Strategy
Sustainability in buildings is about more than design. The procurement process, and the overarching sustainability strategy, can ensure that sustainability is efficiently integrated in to your businesses operations. A thorough approach to sustainability ensures that selected initiatives have the maximum benefit to your organisation, environmentally, socially and economically.
Who should attend?
Strategic thinkers, heads of sustainability, professionals working in the supply chain.
Learning outcomes
Identify the key sustainability strategies relevant to the participant's business
Understand how whole of life and triple-bottom line analysis is being applied strategically. Learn about how Social LCA, Social Return on Investment and Life Cycle Costing is being applied as part of whole of life analysis
Understand sustainable procurement and international standards including BS-8903
Understand how LCA can be linked to sustainable supply chain management
Learn about leveraging sustainability to create innovation
Other LCA face-to-face modules
Other LCA webinar modules
Price list
Course Details
Tickets
Member

/

$425.00




Members Only

Non-Member

/

$550.00




Non-Members Only
Associated Course
This course is part of LCA Face to Face Courses Package Ticket.
CPD Points
3 Green Star CPD point(s).
When
Wed 3 Dec 2014 9:00am - 12:00pm
Registration: 8:30am
Course: 9:00 am - 12:00pm
Location
GBCA Boardroom
Level 15, 179 Elizabeth Street,
Sydney 2000
Browse Courses
Oct 2017
S
M
T
W
T
F
S
1
2
3
4
5
6
7
8
9
10
11
12
13
14
15
16
17
18
19
20
21
22
23
24
25
26
27
28
29
30
31
Questions? Find out more about GBCA Education in the FAQs
Browse by Location
Browse By Category