LCA Course: Product Transparency and Sustainability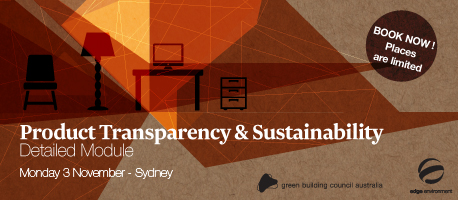 GBCA and Edge Environment have partnered together to bring you a specialised training course focused on Life Cycle Assessment (LCA).
LCA is the most comprehensive method to assess the environmental impacts of products and assets throughout their lifetime. This leading assessment technique is now integrated into Green Star rating tools via innovation challenges and two LCA-based draft credits. So if you, or your customers are working with Green Star, your team needs to understand how to work with LCA.
About the course
Delivered over a four-part series, each module is tailored to a specific aspect of LCA and sustainable building. You can attend, one or all of the modules delivered face-to-face or via webinar. We encourage everyone to attend the introductory module, before attending the detailed modules.
Course leaders include:
About Module 2 - Product Transparency and Sustainability
Sustainable products and materials are the basis of a sustainable building. Life Cycle Assessment (LCA) provides the methodology through which the environmental impacts of products can be understood and compared. The integration of LCA in Green Star provides an unprecedented opportunity to market the environmental credentials of your products, underpinned by rigorous standards. This course will provide you with in depth knowledge on how to undertake an LCA and will start you on the process.
Who should attend?
Building product managers and suppliers.
Learning outcomes
Understand the Product Transparency and Sustainability credit including the role of LCA
Understand how LCA can be used to promote products
Begin an LCA by establishing the Goal and Scope specific to the participants product
Understand the next steps required to progress to a full LCA and Environmental Product Declaration
Other LCA face-to-face modules
Other LCA webinar modules
Price list
Course Details
Tickets
Member

/

$425.00




Members Only

Non-Member

/

$550.00




Non-Members Only
Location
GBCA Boardroom
Level 15, 179 Elizabeth Street,
Sydney 2000
Browse Courses
Dec 2017
S
M
T
W
T
F
S
1
2
3
4
5
6
7
8
9
10
11
12
13
14
15
16
17
18
19
20
21
22
23
24
25
26
27
28
29
30
31
Questions? Find out more about GBCA Education in the FAQs
Browse by Location
Browse By Category